The Royal Station Hotel, Carnforth
Towards the end of 2019 we began working closely with Glenn and Maggie from The Royal Station Hotel in Carnforth. They had been working effortlessly to update the restaurant, rooms and public bar area and approached us about providing tiles for the Restrooms, walkways and bar area, naturally we couldn't wait to be involved.
We began talking about colour schemes and themes, putting a variety of tiles and flat lays together and very quickly we established the direction we wanted to go with it. One thing we especially loved about Glenn and Maggie was that they dared to be different. They made bold choices, ones that will stand out and be remembered!
In the bar
The bar area needed something to add a WOW factor yet fit the bill of a durable surface and be in keeping with the current decor. The areas in question were high traffic where customers enter the building and congregate around the bar. After careful consideration we selected a hexagonal tile by Bestile called Meraki Gris to continue Parisian Chic feel from the dining area of the Royal Station Hotel, Carnforth. To make this look even more eye-catching, the original wood flooring was cut to accommodate the hexagons tiles so that they sat flush with the planks. It looks absolutely perfect!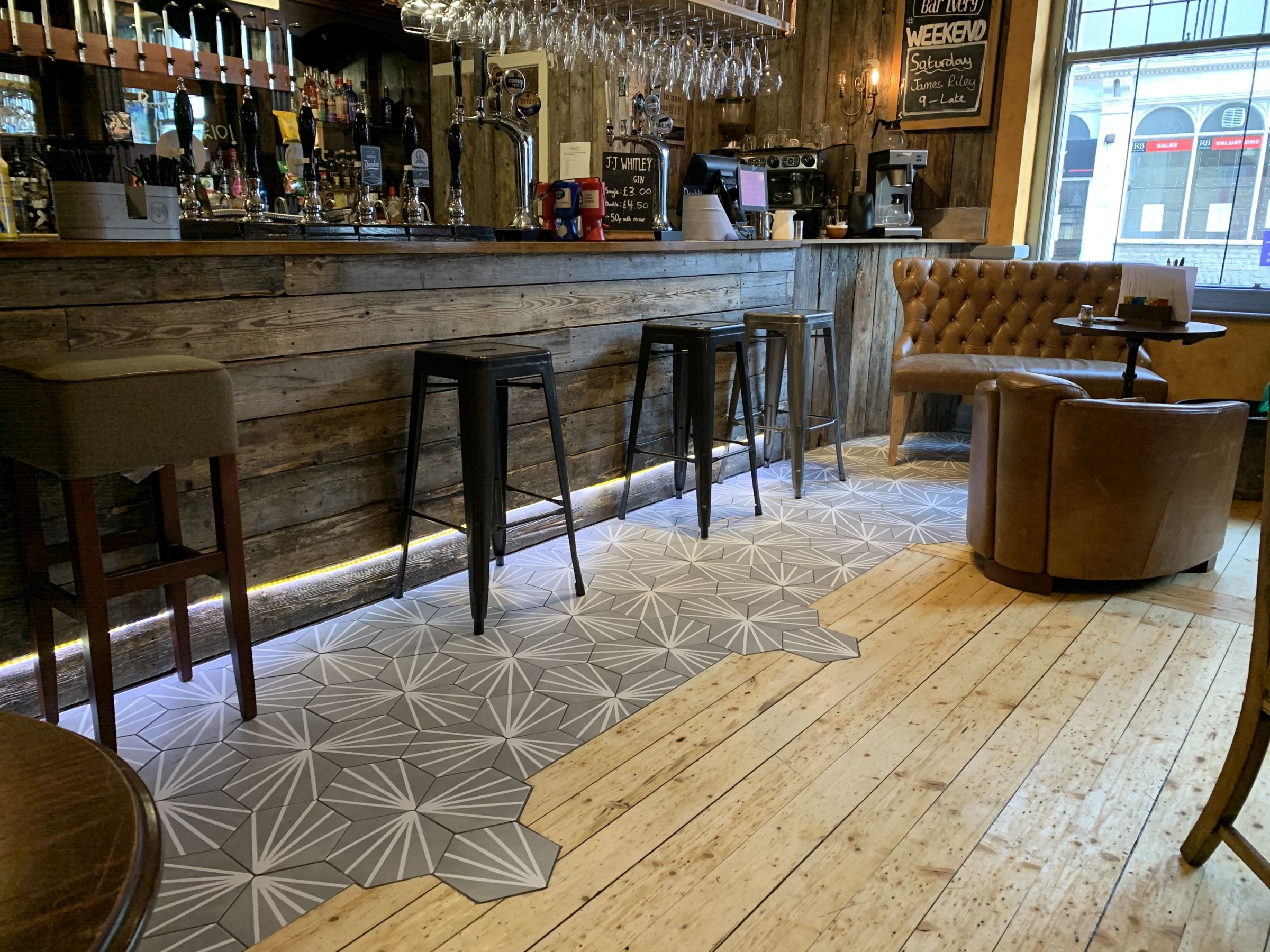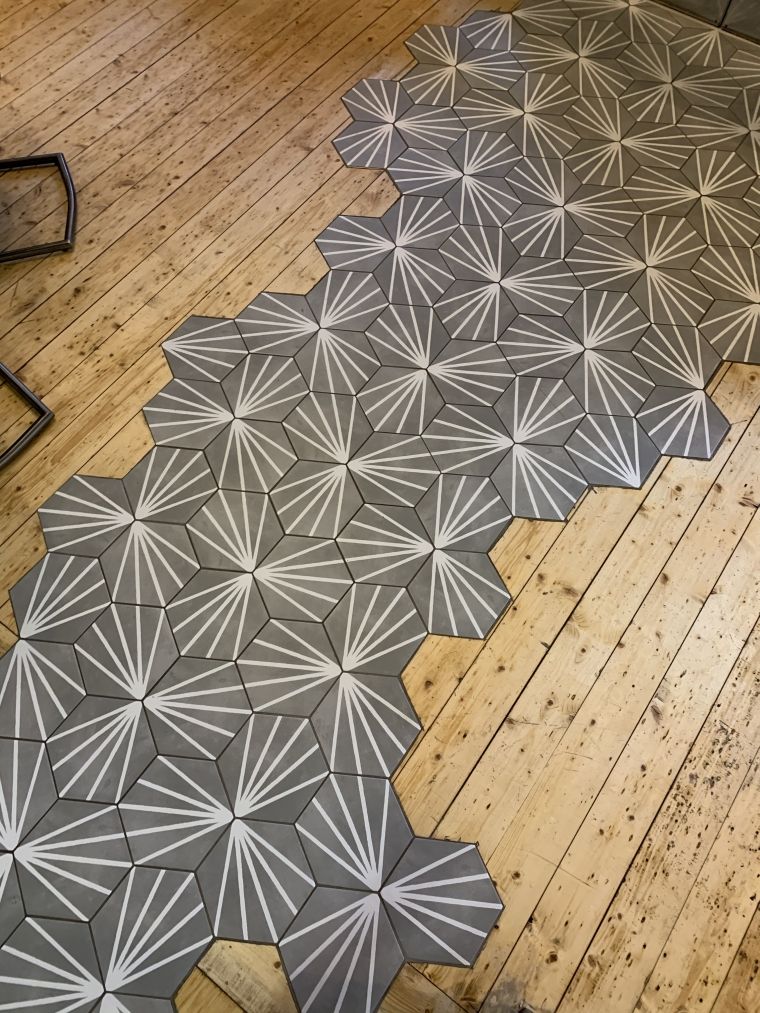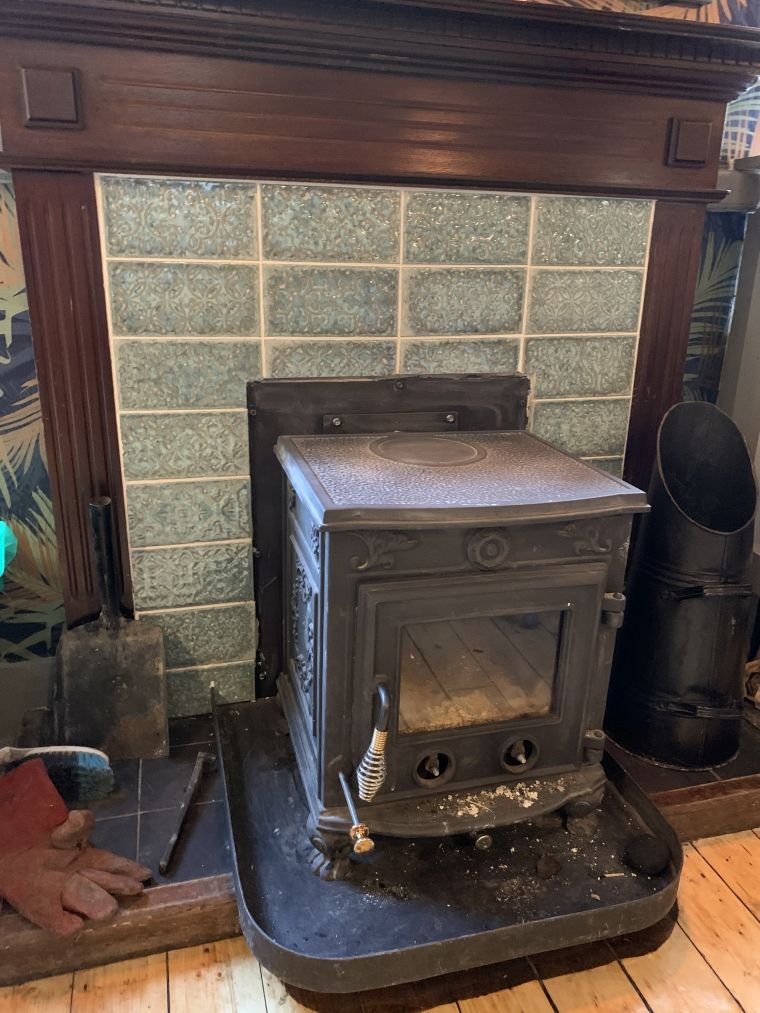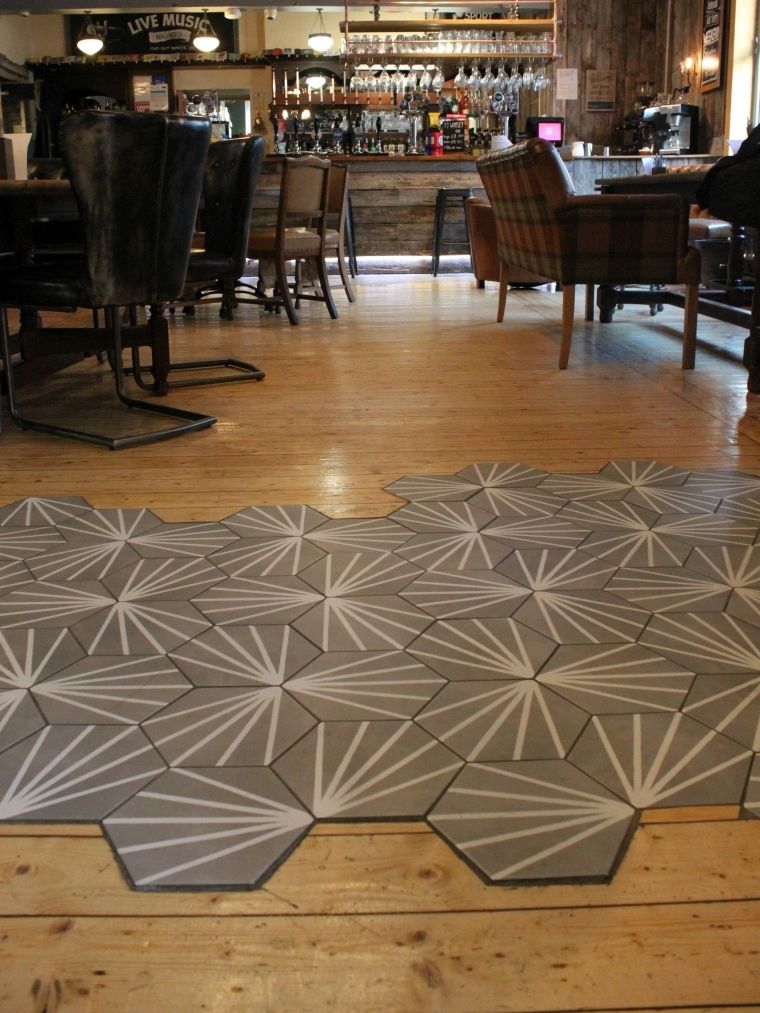 Onto the restrooms
The Ladies Restroom was next on the agenda. This was to be striking and one not to be forgotten in an industrial meets glamour vibe! Each cubicle has a back wall tiled from top to bottom in a beautiful Retro Golden Glossy tile by Life Ceramica. The feature wall that the basins and mirrors are on have a mixed pattern tile collection on consisting of warm tones, bright colours and ornate patterns - Mainzu Rivoli. The remaining walls have a metal inspired large format tile with copper tones (Grunge Oxidum by Aparici) which compliment both the feature wall tiles and the floor tile used, Oxidatio Tellerium by Energie Ker.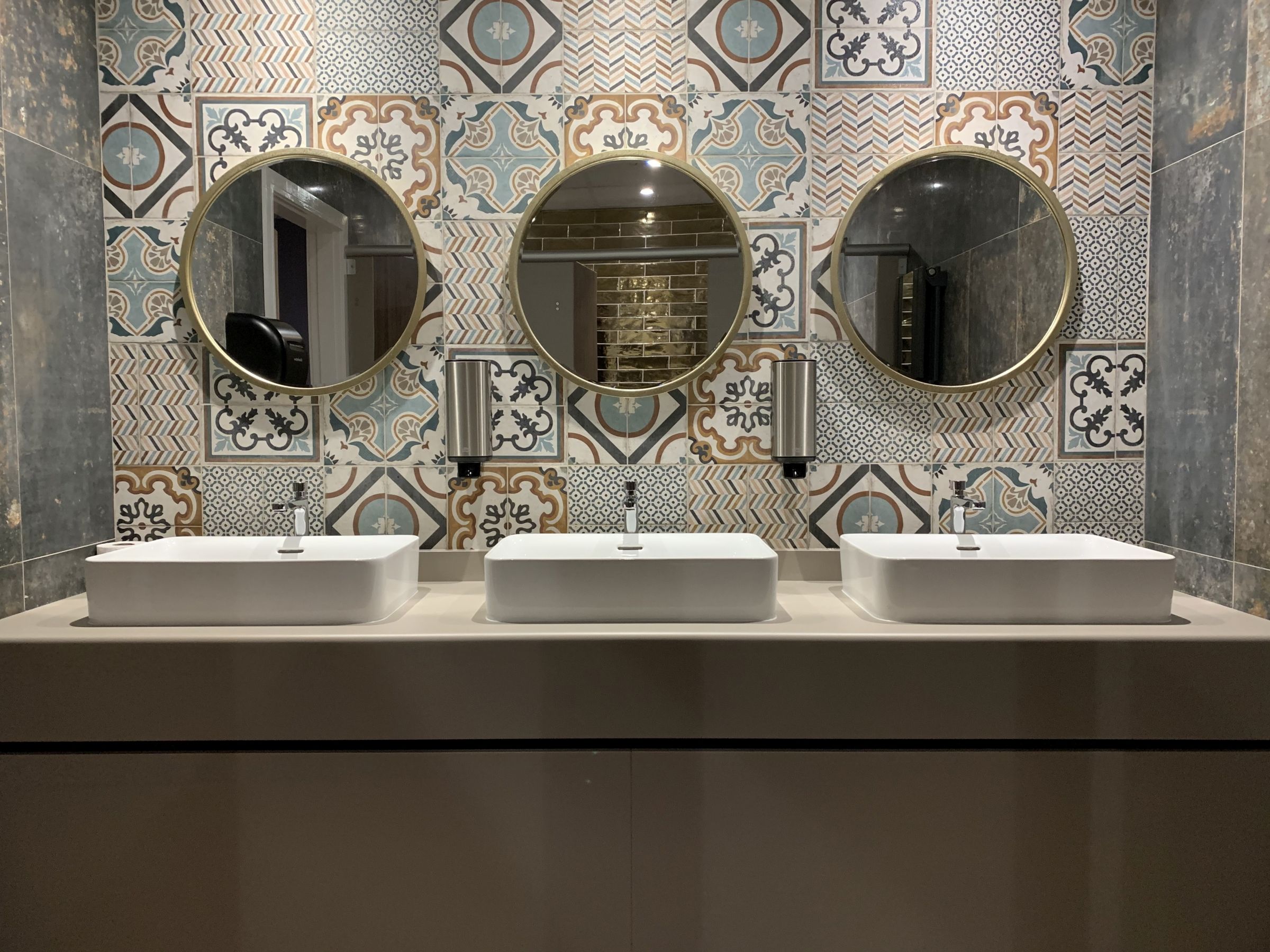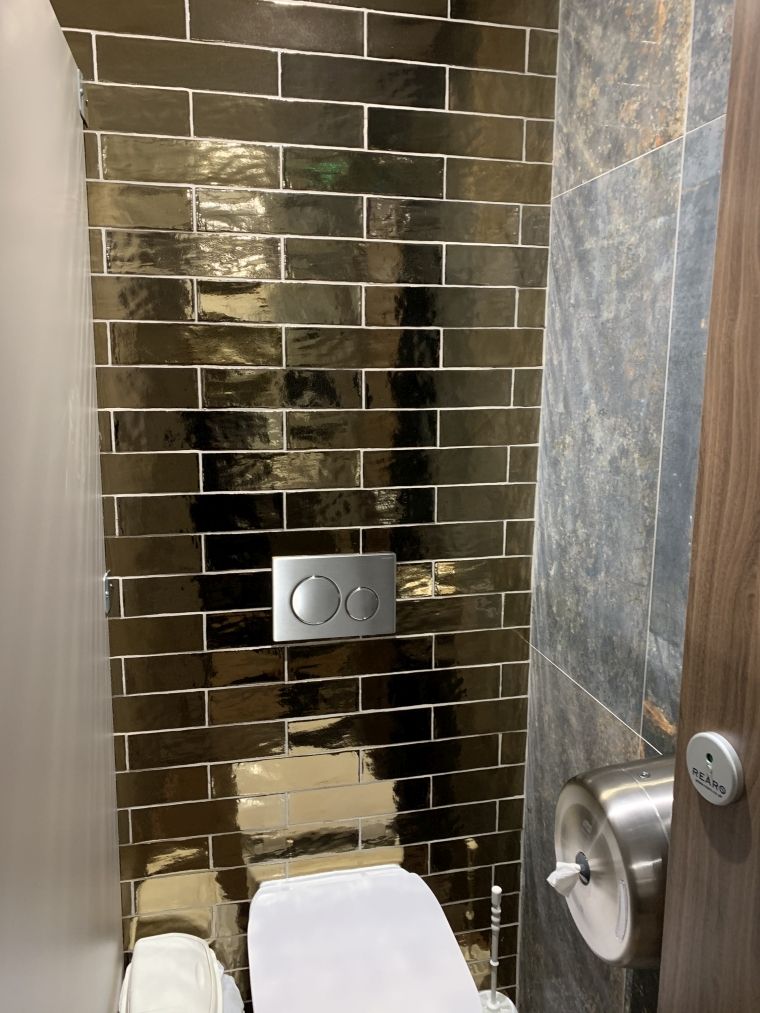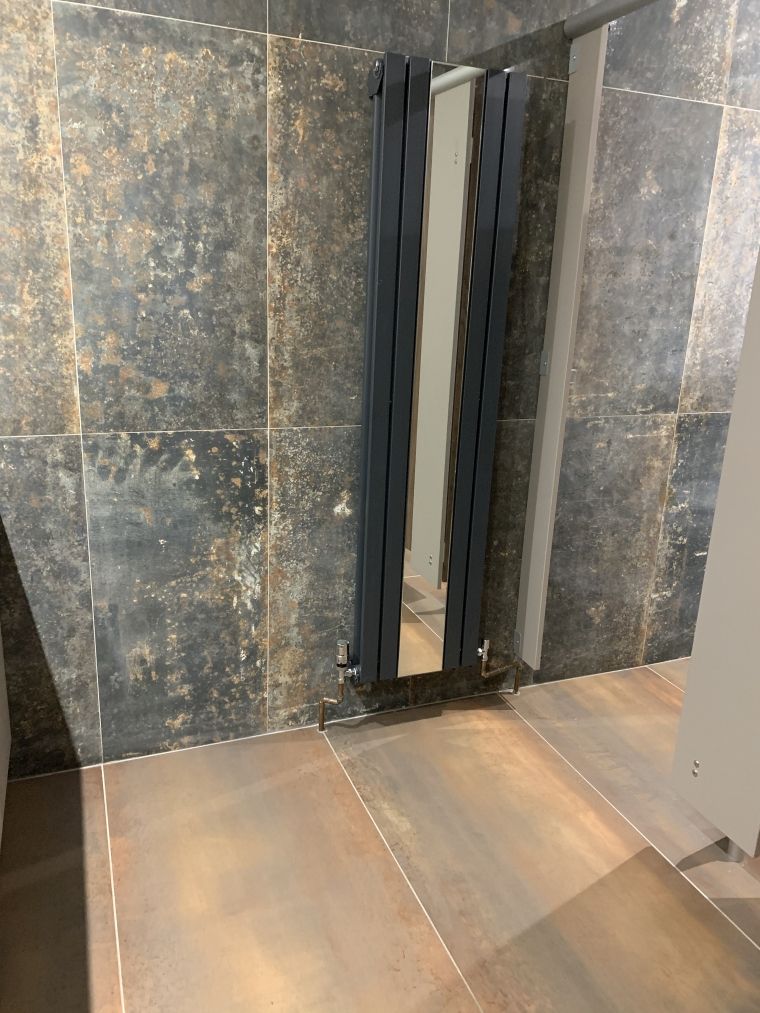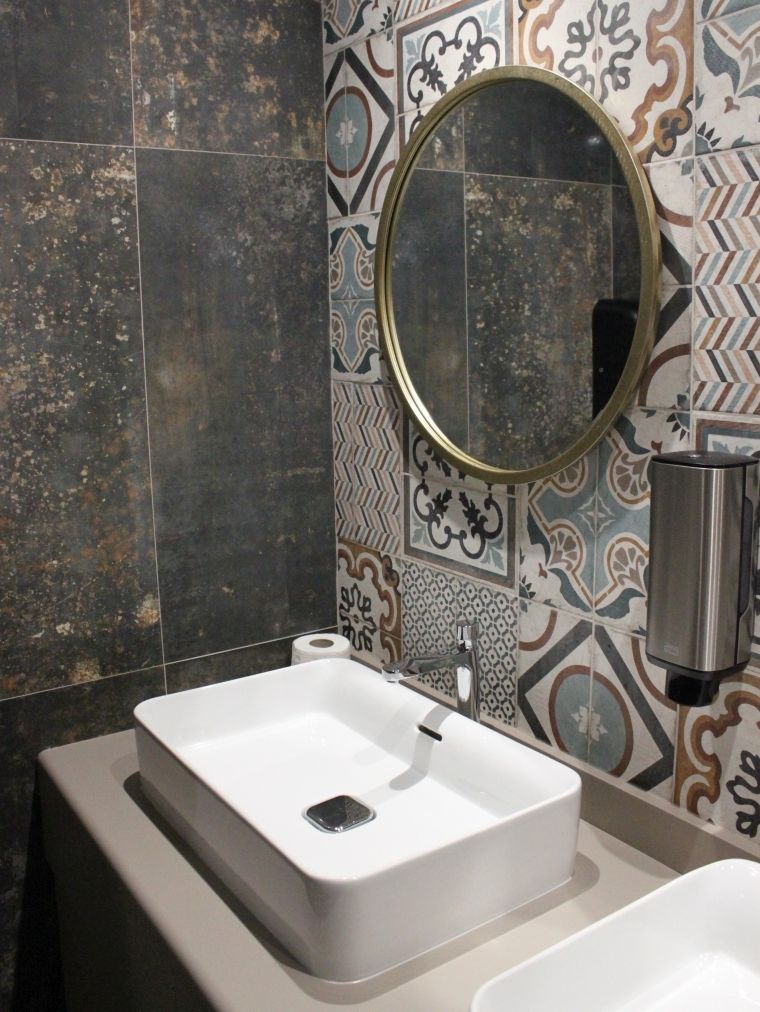 The walkway to the WCs has Oakland Beige tiled vertically along the walls either side which continues seamlessly into the Disabled WC. For the walkway floor Glenn and Maggie chose Carpet Vestige by Aparici which looks stunning! The Disabled WC was finished off nicely with Utah Desert, an anti-slip, textured tile which compliments the wood effect tiles on the walls really well.
The end result is in keeping with the traditional elements of the building yet adding on-trend styles and ideas which complement the establishment. They've done such a fantastic job with The Royal Station Hotel and we are really proud to have been involved! Products featured:

Rivoli Torino Mix Decors by Mainzu (Ladies Restroom)
Grunge Oxido by Aparici (Ladies Restroom)
Oxidatio Tellurium by Energie Ker (Ladies Restroom)
Columbus Retro Golden Glossy by Life Ceramica (Ladies Restroom)
Carpet Vestige and Sand by Aparici (Walkway)
Oakland Beige by Alapana (Walkway and Disabled Restroom)
Utah Desert by Energie Ker (Disabled Restroom)
Meraki Gris by Bestile (Bar Area and Bar Walkway)
Zurbaran Esmerelda by Bestile (Fireplace)