Heavenly Herringbone
We love a good tile trend here at Rees Tiles and herringbone layout is something that has made its way back into the world of tiles over the last couple of years. In some ways it never really went, it's a style that is often used with wood effect flooring, but its back with vengeance for wall tiles. The beauty of herringbone tiling is that it can make a very simple tile look very interesting. Getting it's name from the angular design that looks similar to the herring fish bone structure, this design will look fantastic for years to come.

Did you know the herringbone layout dates way back to Roman times? The Romans believed road paving laid in herringbone format were the most durable and reliable. The interlocking pattern made for a powerful infrastructure, one of which that has continued to be used in one way or another for years after. Herringbone pattern can be found everywhere around us, from fabrics to paving, buildings to artwork, it's an appealing design to all. Now, herringbone is not to be confused with chevron. Herringbone is achieved by using regular planks with 90° angled corners laid perpendicular to another 90 degree plank, forming another right angle creating the pattern. Chevron planks are cut at a 45° angle and they meet at a symmetrical, mirrored joint creating a right angle when they are pieced together.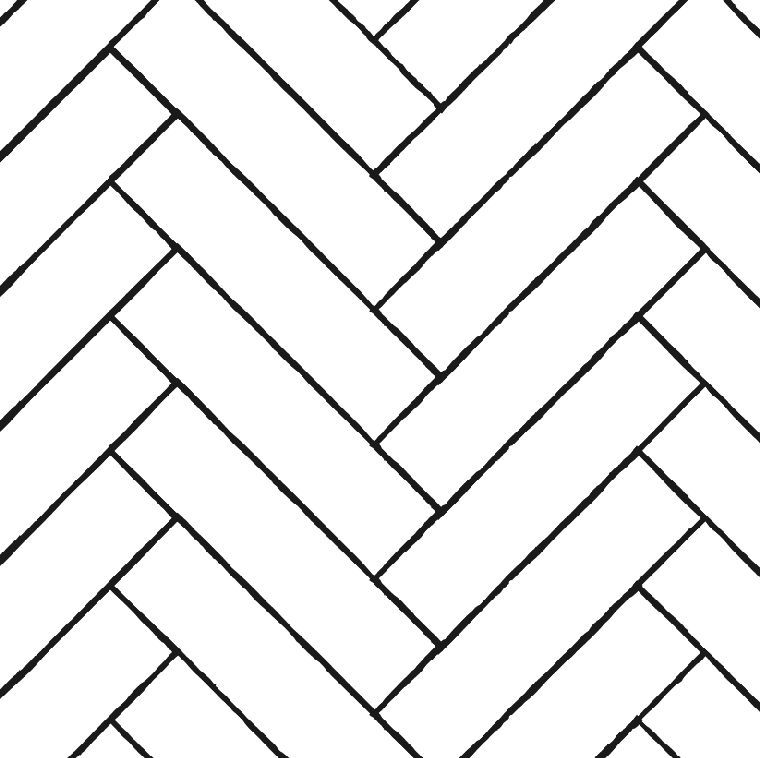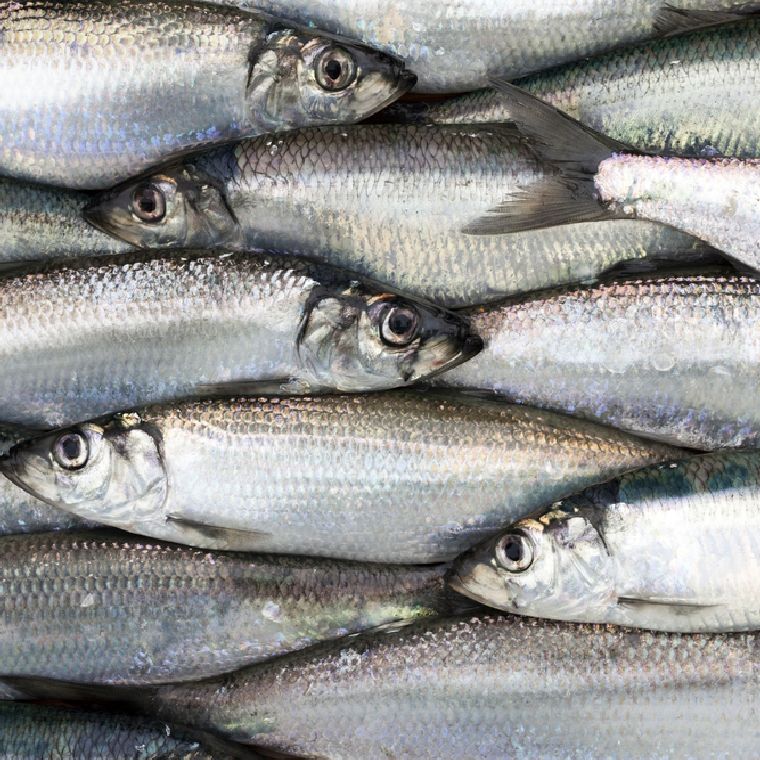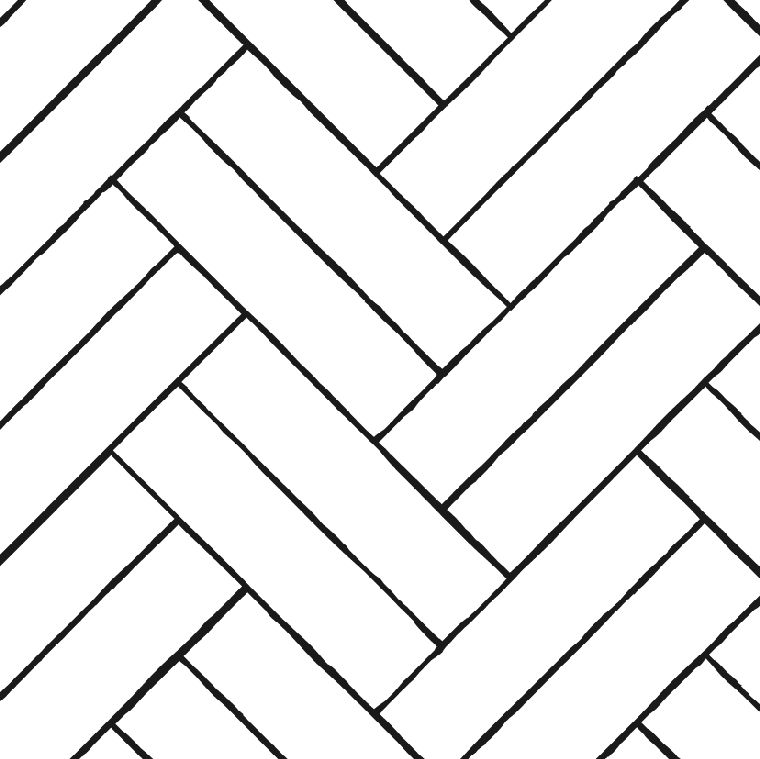 Let's start with herringbone on the floor as it is a layout used traditionally for wood flooring. Parquet flooring was a desirable method of laying a floor in France during the 17th Century. Its popularity spread across the Continent and can be seen in many old buildings. Brands such as Karndean still produce a vinyl version of traditional parquet flooring that works wonderfully in older homes, and architectural spaces – think of old village halls, libraries, museum floors etc. We have seen a surge in wood effect tiles due to the ease of maintenance compared to that real wood. The same applies for wood effect vinyl. Choosing either of these options eliminates laborious tasks such as sanding, staining, and treating, all of which you get with real wood. More recently customers have started installing these wood effect products in herringbone effect but moved away from small parquet style and opting for larger planks. The result is striking! A herringbone wood effect floor is welcoming, cosy and compliments a variety of surroundings, whether it's an entrance hallway, kitchen diner, living space or bedroom floor. The beauty with wood being a traditional flooring option is you can put it alongside a contemporary, uber sleek kitchen and it doesn't look out of place.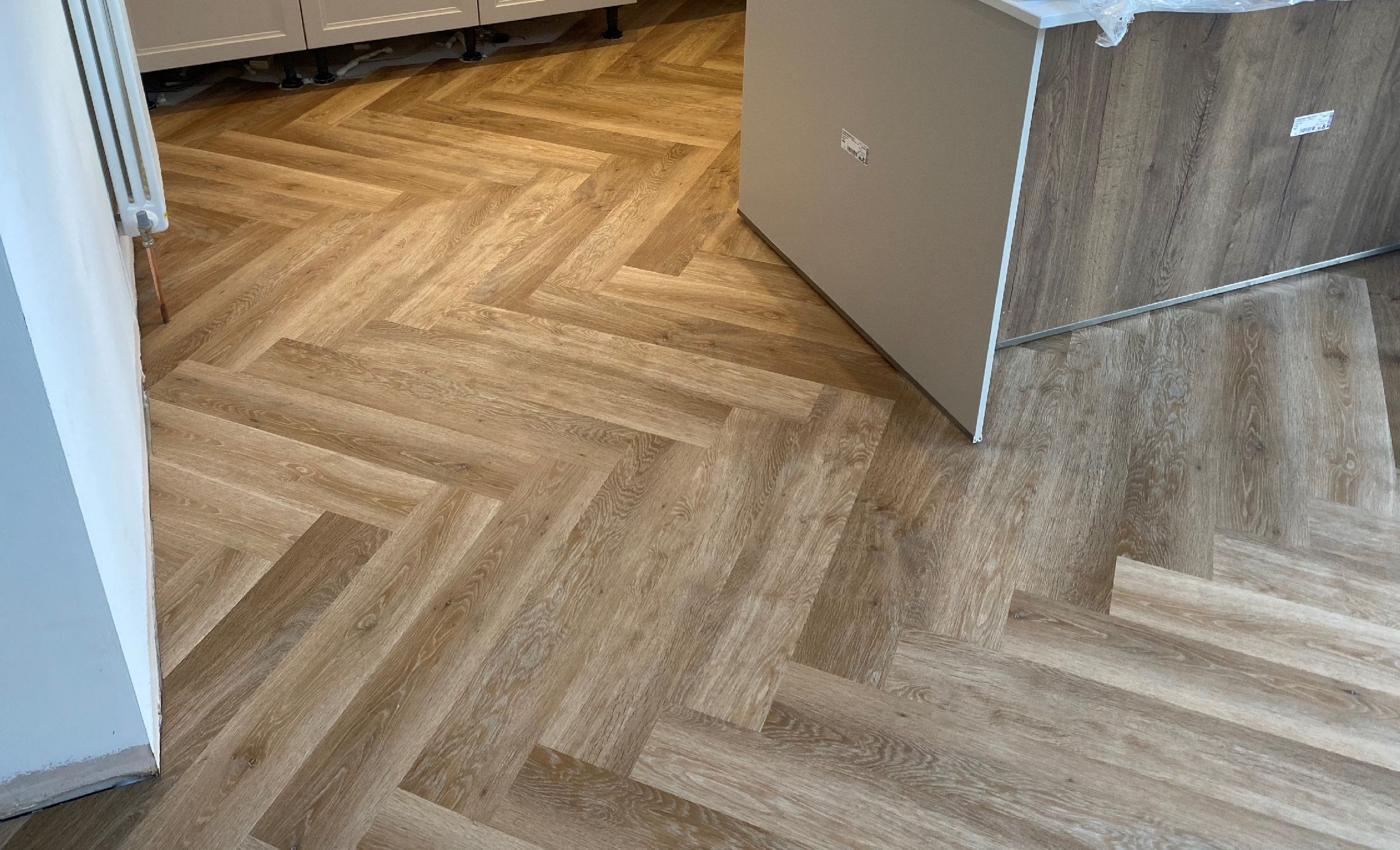 Another great use of herringbone is as a feature splashback area in a kitchen and you could really go to town with this one. Many kitchen tiles have bold colours and interesting patterns. Throw this into the mix with a herringbone pattern and you could make a real WOW factor in your kitchen. You can also pick a simple tile and make it look interesting just by installing it in herringbone format.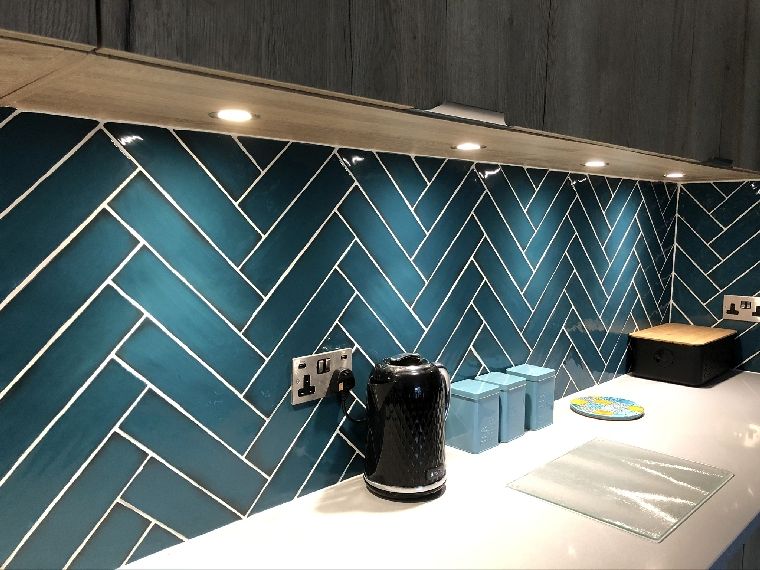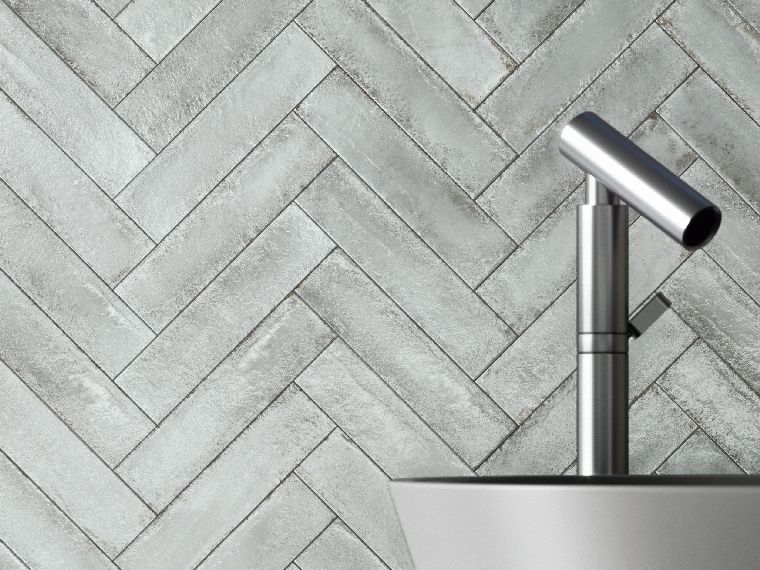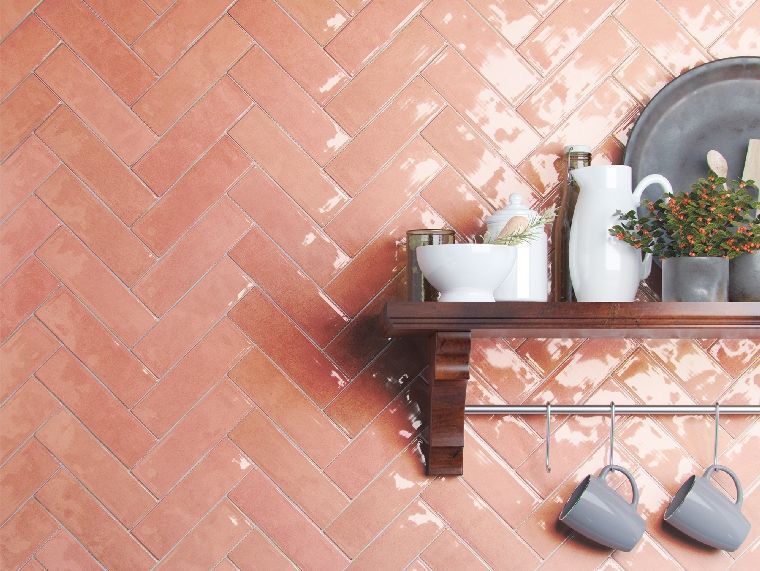 Creating a feature wall in a bathroom with herringbone tiles is a way to add character and personality to the space. We often see this happening with plain colours such as white, grey or black to make it look interesting without picking a tile that may date quicker or you that get bored of. However, for those of you that fancy a bit of excitement, using splashes of colour to contrast against the rest of the room or tiles you've selected can really look something else! The use of a herringbone format behind a free standing bath to create a focal point, or maybe in the shower area to break up the room, there's always somewhere you can use the idea.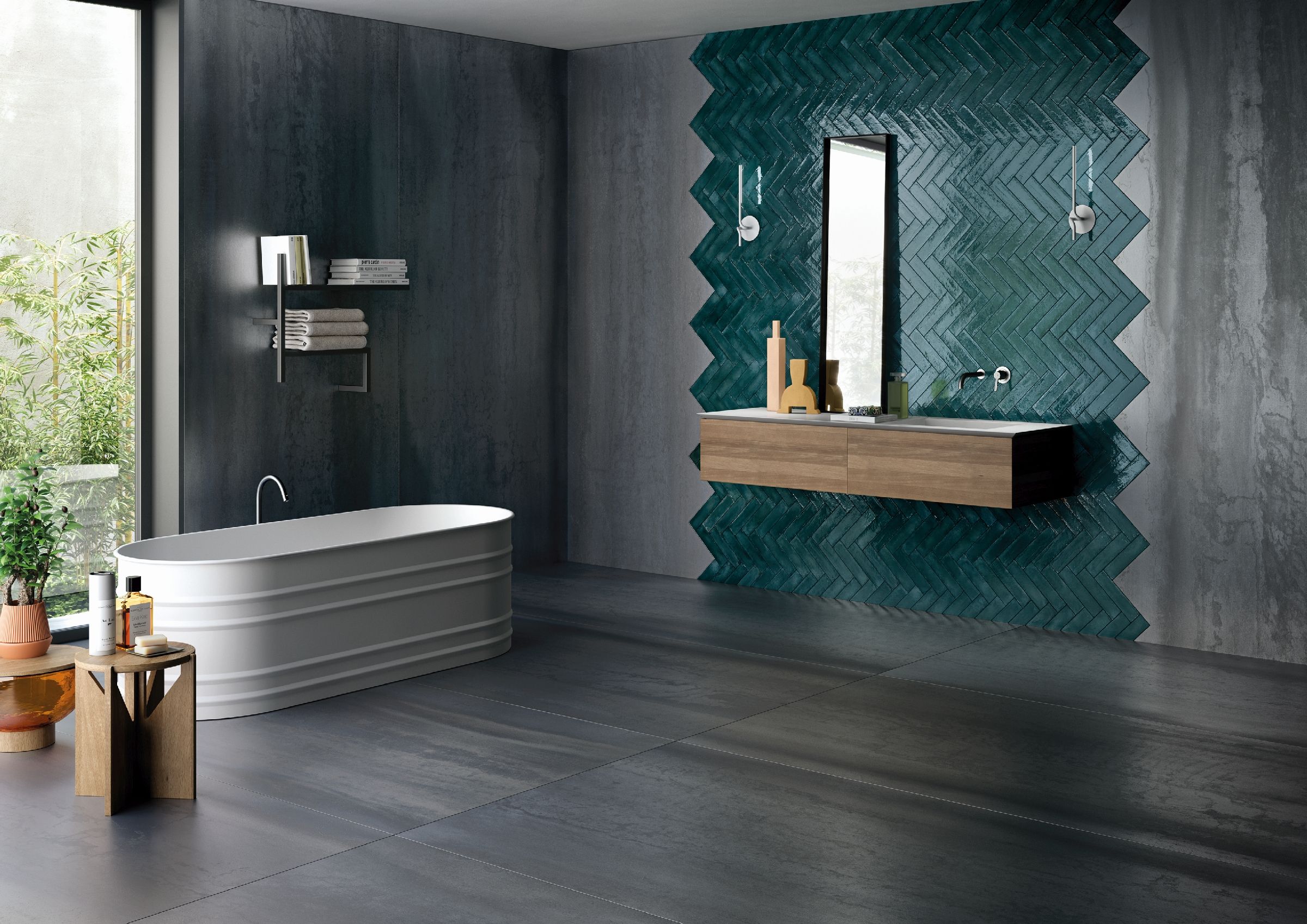 If you are thinking about tiling or installing LVT in herringbone format, it's worth noting that you may need up to 20% more product than traditional fitting due to cuts. Aside from that, go crazy, be bold and do something the looks fabulous!