Honeycomb Hexagonal Harmony
Hexagons tiles are a bit of a chameleon in the tile world. They have the ability to slot into traditional environments at ease, yet when used correctly they look contemporary, on trend and uber chic. What we love most about hexagon tiles is the fact that they stand out where ever they are, even if their design is neutral or monochrome.

Kitchen design is a really important decision because a kitchen is the heart of the home. It's the social hub of a family, where you entertain guests, where you spend your evenings. This is why a tile choice in a kitchen is such an important factor. People are moving away from traditional square tiles in favour of eye-catching, striking surfaces and hexagon tiles are proving a popular contender.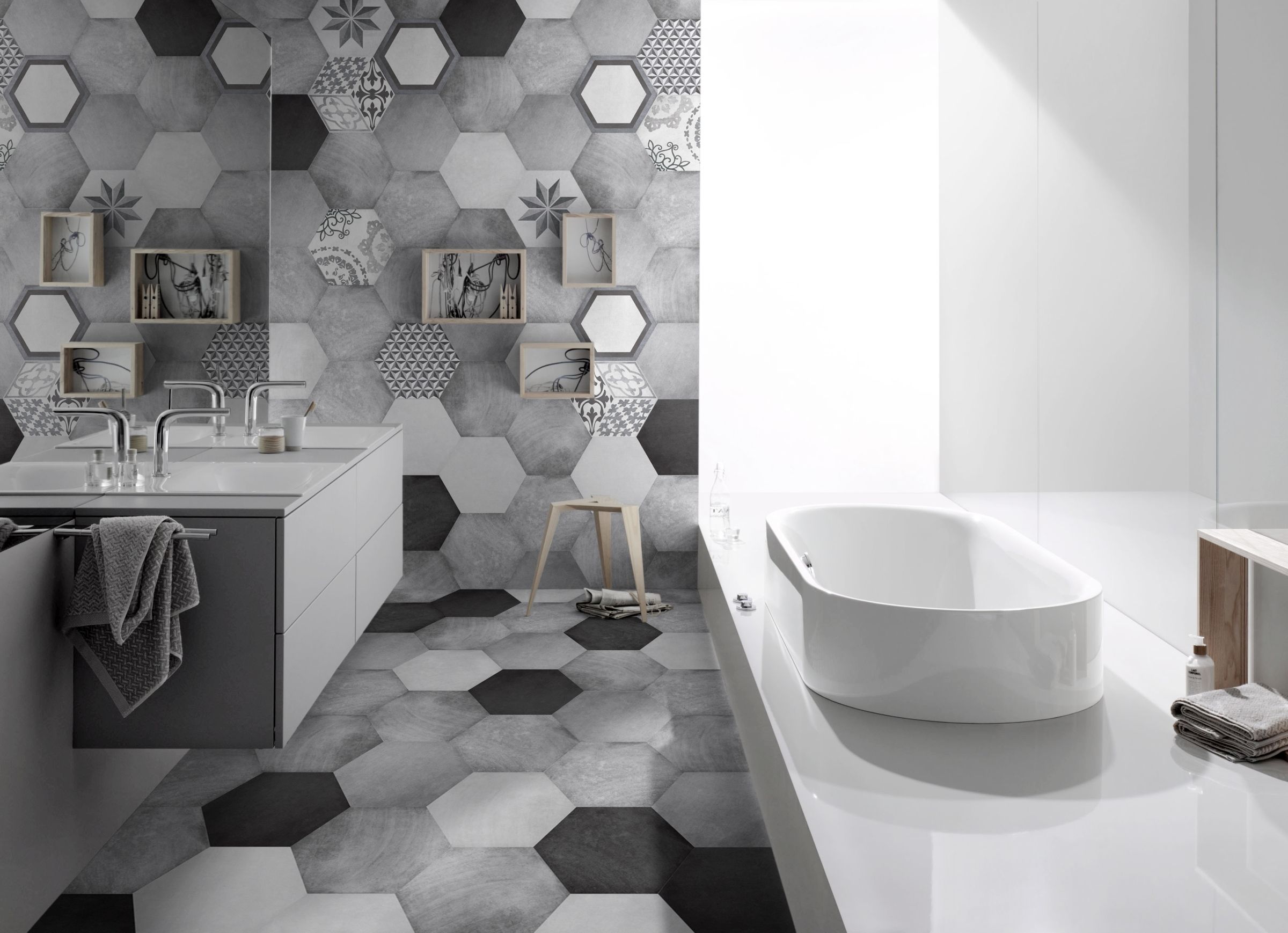 They look fantastic when paired with contrasting materials such as natural wood or wood effect tiles, especially when the corners are cut into where the planks meet. The use of hexagon tiles fading out on a wall is really effective too, making a feature splash back behind a sink or bath without tiling the full wall. Aparici 'Carpet' has a hexagon tile that looks stunning.

We love our 'Nala' collection by Novagres which features both patterned and plain designs in hexagonal format. The 3 plain field tiles are monochrome in colour (black, grey and white) can be used alone or mixed together as both options are equally effective. The décor tiles are made up of the 3 colours and a variety of patters from stars, floral, geometric and more. These can be worked into a surface sporadically for a subtle hint of patchwork. For the ultimate wow factor, cover a complete area in the patterned decors!

Patterned hexagon tiles are also great for creating optical illusions. A perfect example of this is the Meraki Lilypad tiles by Bestile. These angular, geometric tiles mimic traditional encaustic tiles and take on a design inspired by nature. There are a variety of patterns you can make with these hexagonal tiles depending on the way you arrange them. This collection comes with matching plain coloured tiles too. Pick just one colour way, combine with the inverse colour way or a plain coloured tile or even mix the whole lot together – the possibilities with collection are endless!