Life's a Beach
Having spent a week in Devon over Easter half term, we have come back feeling all relaxed and inspired. We are very fortunate to live near the sea and it is something we don't take for granted, but the beach and surroundings along the Devonshire coastline are something else! With this in mind we began to think of ways to bring that relaxed vibe to your own home in the form of a beach inspired bathroom. Not a nautical, stripped bathroom, more of a neutral and calming space with seashore undertones.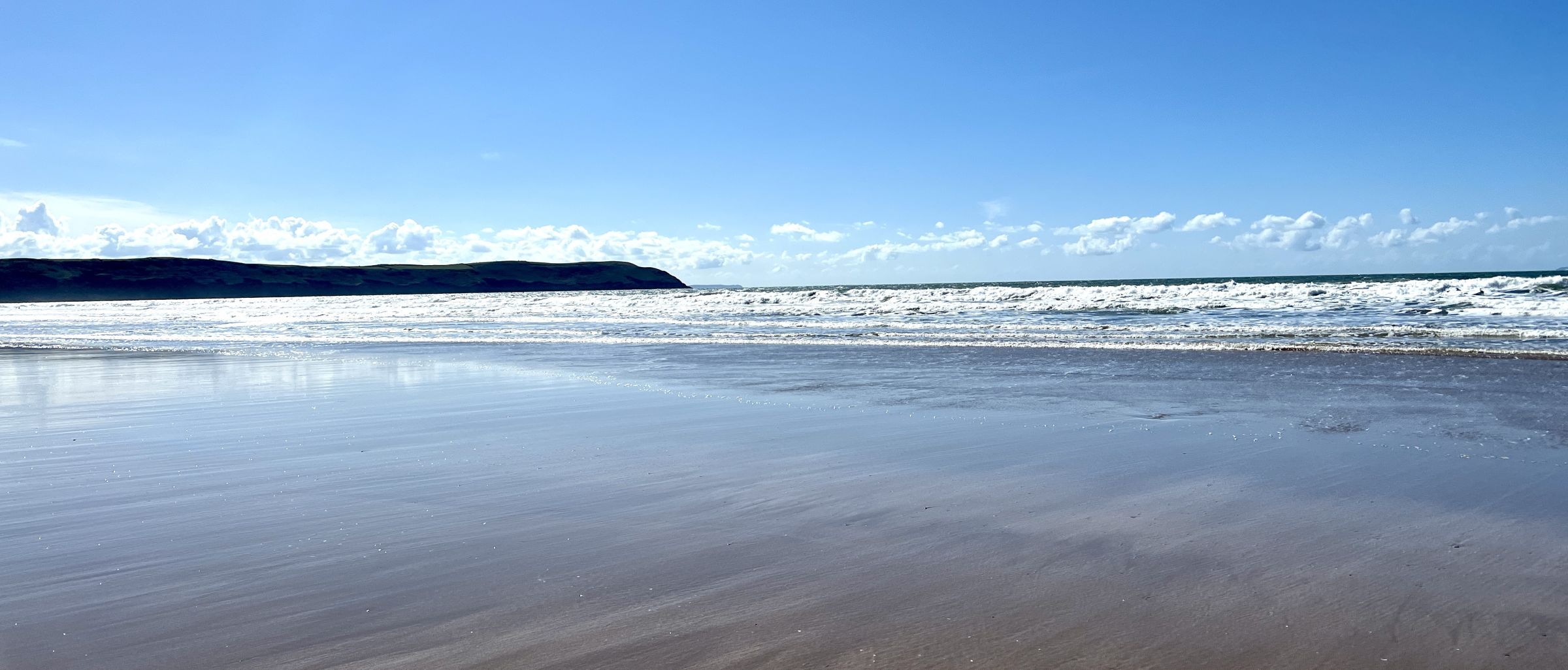 The first thing we think of is the sand and those warm, beige and brown tones it bears. From the lighter, golden sands that first greet you when you step onto the beach, to the darker moister shades that have recently been kissed by the ocean. We've so many tiles we could suggest that fit the bill here but the obvious choice is Narbona by STN. This wall tile is a perfect sandy colour and comes with a décor tile that looks just like the wavy ripples left in the sand when the tide goes back out. Using something with a wave is certainly a great way to be reminded of the sea and sand.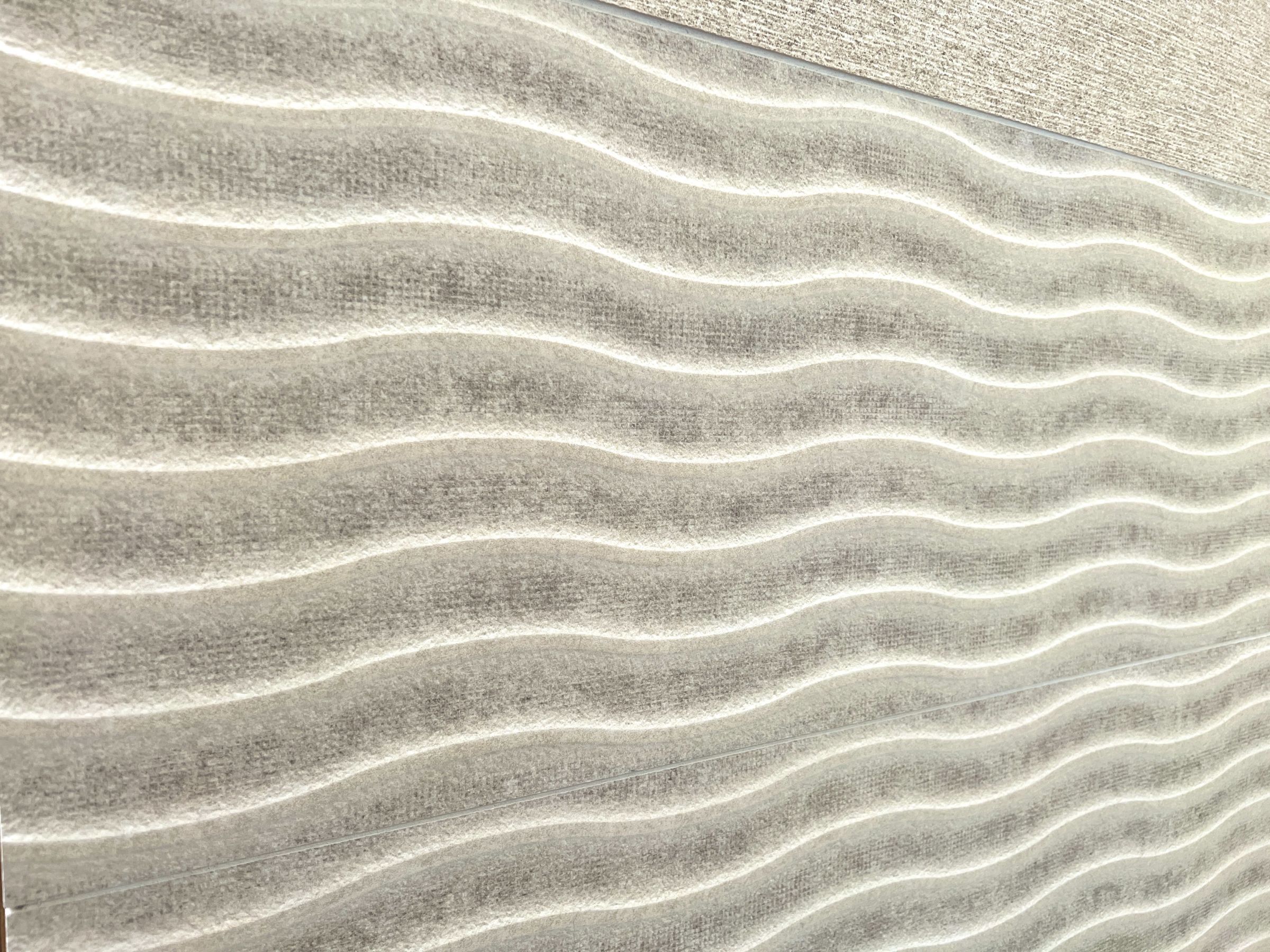 Other warm and sandy coloured tiles such as 'Lucca', 'Windsor' or 'Himalaya' would be great alternative choices here. Their tones would work perfectly for a beach themed bathroom.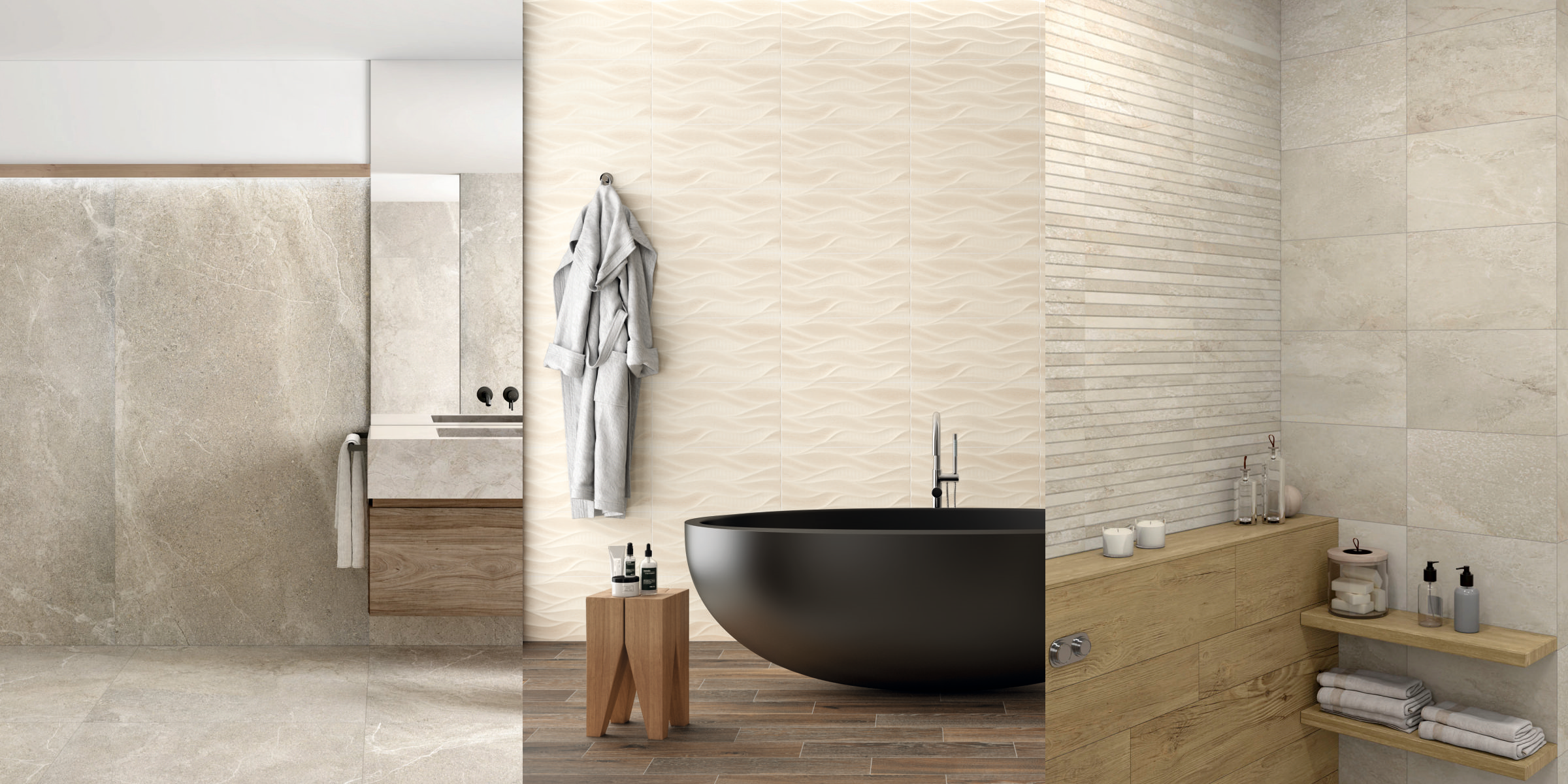 Another perfect way to bring in some beachy vibes is wood effect. Whether that's distressed and weathered looking wood, white-washed wood or driftwood, this is a sure way to bring in that beachcomber feeling to your home. A great way to use wood effect tiles is to place them stood on their end vertically, recreating wood panelling seen in the likes of fishermen huts or the sides of boats. Eiche by Novabell would be perfect for this as it is just the right length to finish halfway up the wall, allowing you to paint the rest of the walls in a bright white colour ready to accessorise. The 120x20cm length planks are realistic in design and look stunning when installed. Maybe consider using them as a feature wall behind a mirror in a horizontal format, drawing the eye to the basin area, or even in the shower enclosure.

Maybe the likes of 'Cottage', 'Albi' or 'Kauri' by Pamesa float your boat for a wood effect feature in a bathroom?

You could always install Karndean on the floor too in a bathroom. Karndean have a variety of wood effect options that would be perfect for a beach inspired space. Some personal favourites of ours for this kind of bathroom would be White Painted Oak or Artic Driftwood in the Knight Tile collection or Light Distressed Oak in the Di Vinci collection. This then leaves your wall space free to tile in warm, sandy coloured tiles or even go bold and work in some coloured elements.

Speaking of colour, we couldn't talk about the beach without mentioning blue. The striking blue of the ocean, the contrast against the sand, the way it blends from the white foam, to light blue then to where it meets the horizon. Blue stands out against white brilliantly and there's a variety of ways to introduce blue to a bathroom, be it blue bathroom furniture, a blue painted wall or blue tiles. A favourite of ours is Meraki Aguamarina by Bestile. This hexagon tile is fun and has a variety of design options, and despite being just a plain block colour, the 'base' tile is a great option to start with. This light blue tile reminds us of the sea and is perfect for a beachy bathroom. The décor tile bears a pattern of that which we liken to a shell also.