Marvellous Marble effect
Once seen as classic, now seen as contemporary and chic. Marble, although it was never really gone, has made a big comeback in modern day interiors. The crisp contrast between the veining and the stone colour looks sleek and sophisticated – a look that is quite favourable right now. True, marble is luxurious, but luxury comes with an expensive price tag and requires aftercare once installed. However, all is not lost, there are many factories producing marble effect tiles on the continent, some of which you wouldn't even know the difference between them and the real thing!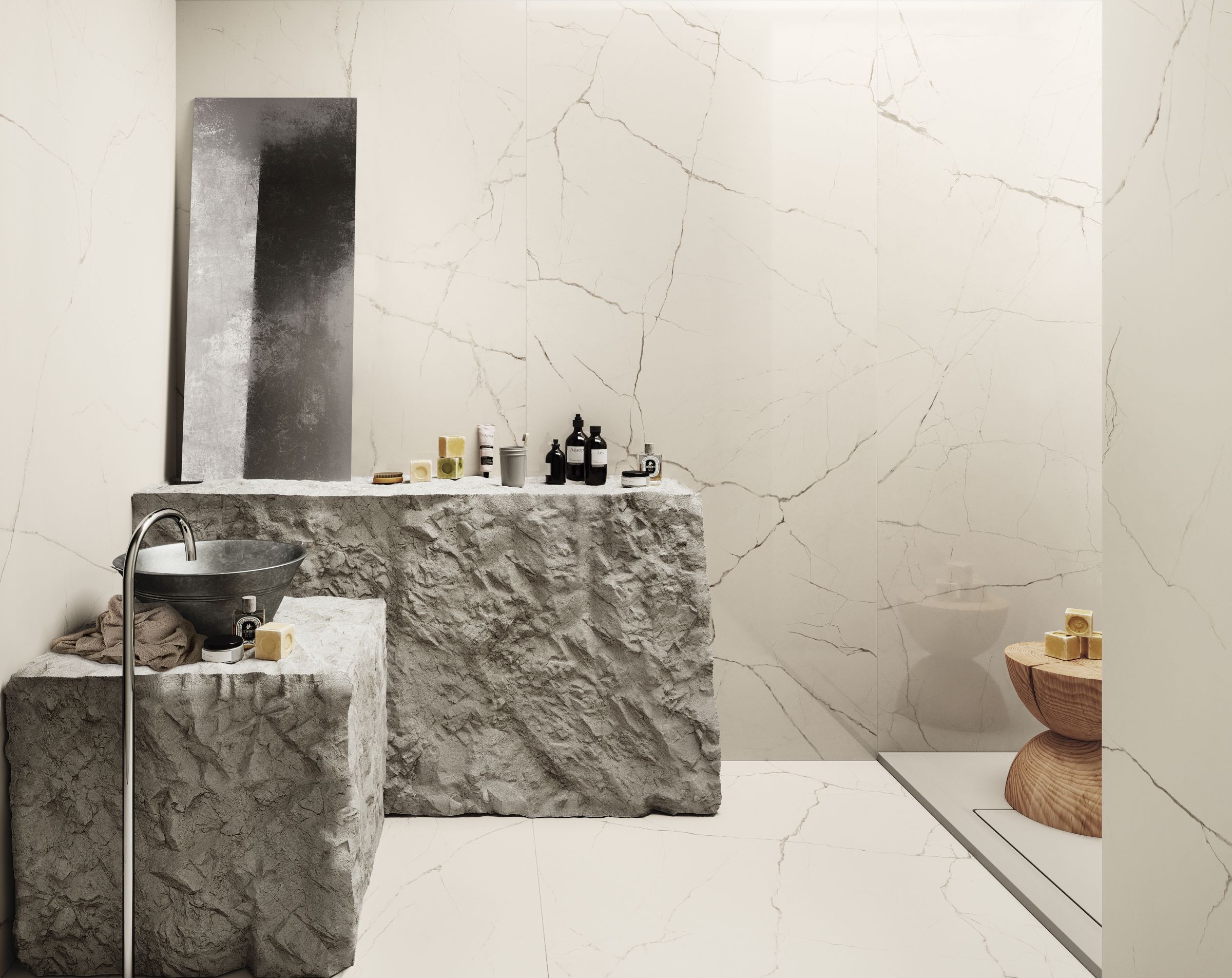 As with most tiles nowadays, you can get marble effect tiles in a multitude of sizes. From small kitchen tiles right up to 120x260cm and in polished or matt finish also. With all these options available it allows you to create a high-end finish in any part of your home. One tile collection we particularly love is 'The Room' by Imola Ceramica, especially the 'Staturio Vena Piccola' and 'Invisible White'. These beautiful, large format tiles are so versatile, suiting many areas of a home and looks absolutely stunning.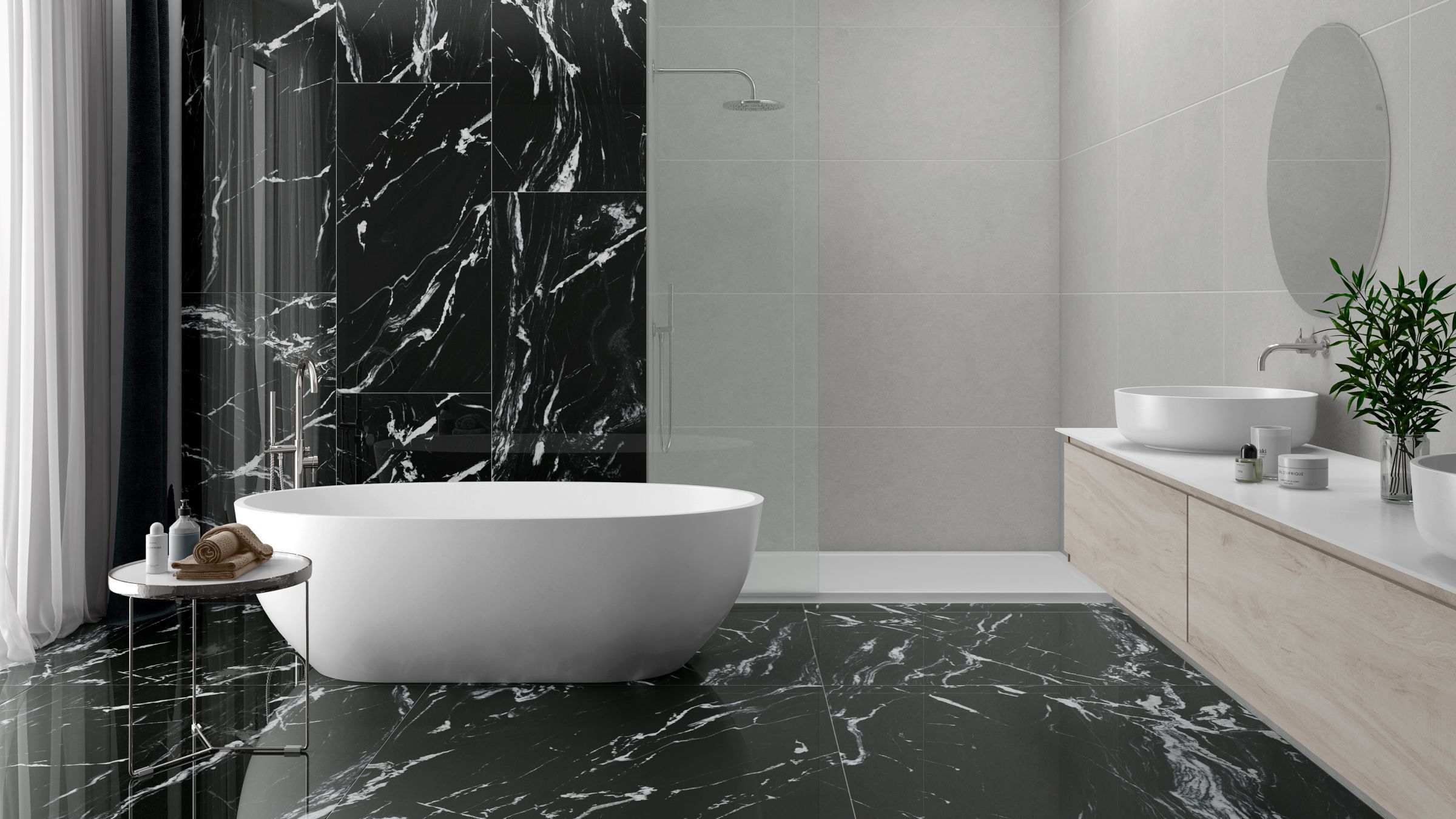 Using marble effect tiles in a bathroom creates a tranquil and airy space to relax in but it's so much more practical than the real deal. No worrying about water marks or the cleaning and re-sealing it, not to mention the large price tag real marble has. Marble slots in perfectly to any style of interior whether it's traditional or Victorian, contemporary and minimal, it really does lend itself to all. There's a variety of ways to incorporate Marble effect tiles into a bathroom. Our obvious choice would be to fully tile from floor to ceiling to gain that striking, stunning look the minute you enter the room. However, using a large format, marble tile on a feature wall, like 'Iliria Nero', the could create just as much impact, especially when against a contrasting colour or material. Teaming marble effect with items such as free-standing baths, dark or brass fittings and decorative light bulbs will create an attractive and seductive space that EVERYBODY will love!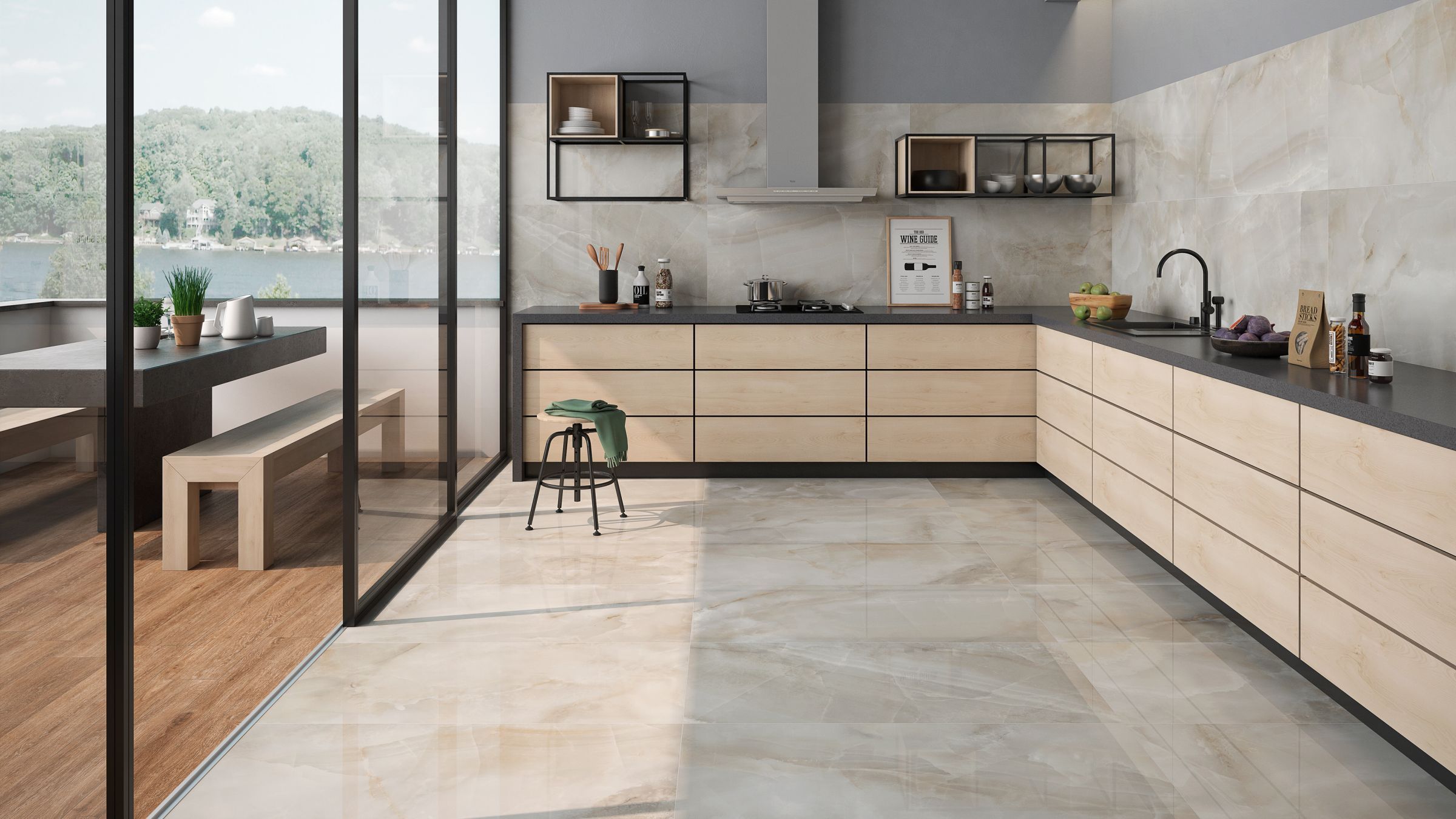 As we mentioned, real marble is stunning, but the upkeep can be somewhat laborious and it's not practical in certain environments. Kitchens are one of those such spaces. Marble, as a natural stone, is porous, and in kitchens there are sometimes spillages and accidents that cannot be helped. By using a marble effect tiles you can eliminate the stress of problematic staining on your floors yet still achieve that stunning, open plan living look with large format marble effect tiles. 'Naza' by Pamesa is a marble effect tile with crisp, rectified edges. When used on a kitchen floor it creates a sophisticated feel and inviting social space that is the heart of the home. You can even continue this look in the kitchen by using it as a splashback on your kitchen walls creating a flow of continuity, finishing off your kitchen design completely.