The magic of Monochrome
Monochrome bathrooms are really on trend right now and it's a theme that is timeless as well as able to sit alongside most interior styles. Whether you live in a contemporary penthouse or a Victorian terrace, this style works so well and can be created on a variety of budgets. Initially you think of traditional, Victorian bathrooms when you hear black and white, but it simply is not the case anymore. Gone of checkerboard mosaic flooring and dado border tiles, monochrome is back and BIG! By using a base of black and white you are able to create a bright, clean cut space that feels minimal and contemporary. Black framed shower enclosures tie in to the monochrome theme and create an industrial feature in the room too. When used together with black rimmed mirrors and black fixtures and fittings the perfect contemporary, monochrome bathroom is created.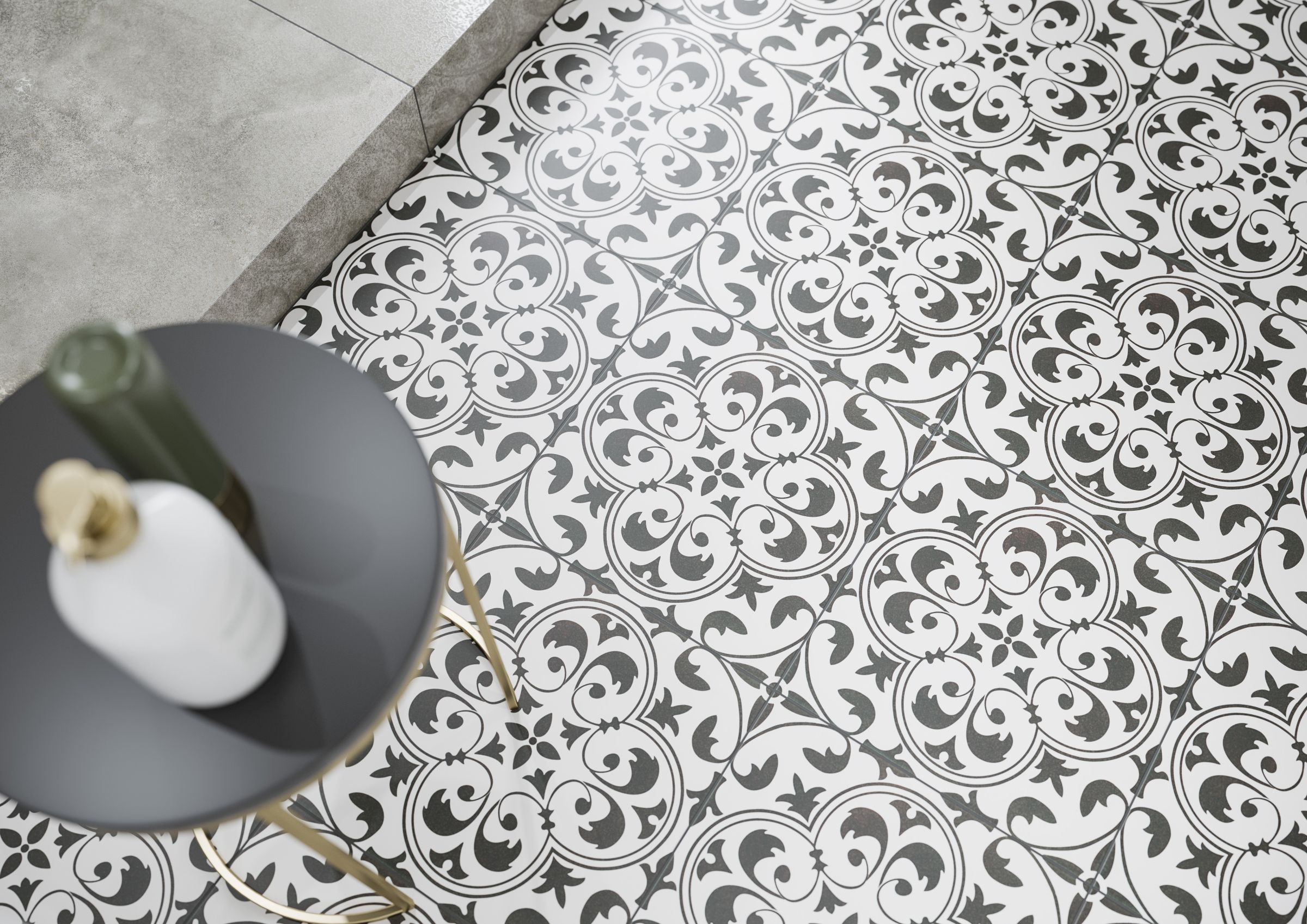 So, how to create this trend at home? There's a variety of ways to do this successfully but one of our favourite ways is by using simple tiles on the wall and really going for it with a patterned, monochrome floor tile. By opting for something plainer on the wall such as a white metro/brick tile or small, rectangular gloss white tile, you immediately draw the attention to the decorative flooring. You could however use black grout on the wall tiles to create a contrast and make it more industrial looking if you wished, as this is really striking too. We really love our Patchwork Collection for creating a statement floor. This square, porcelain monochrome tile can be used on either floors or walls so you're not restricted to where you can install it, but we think they look superb when used as flooring.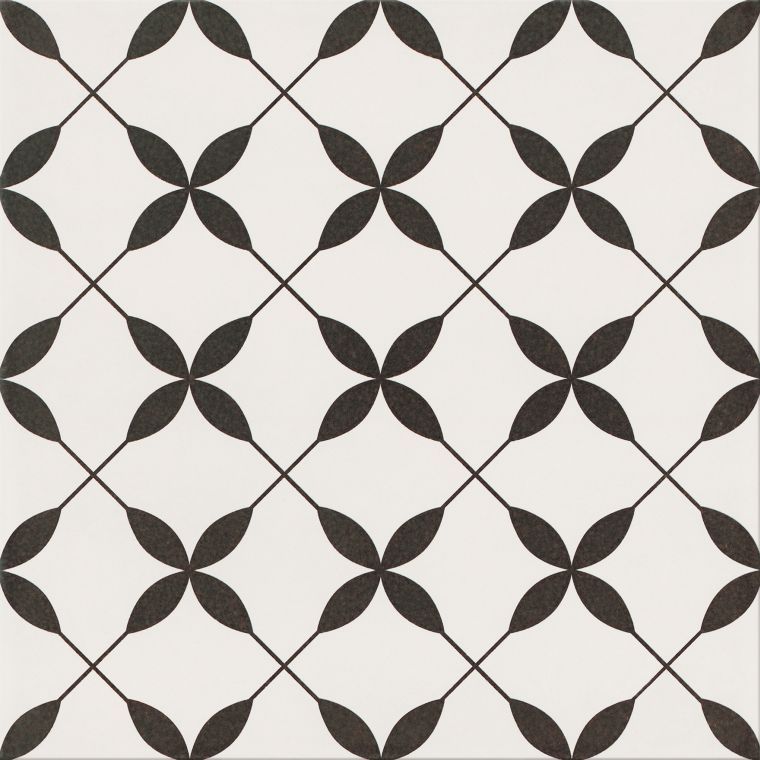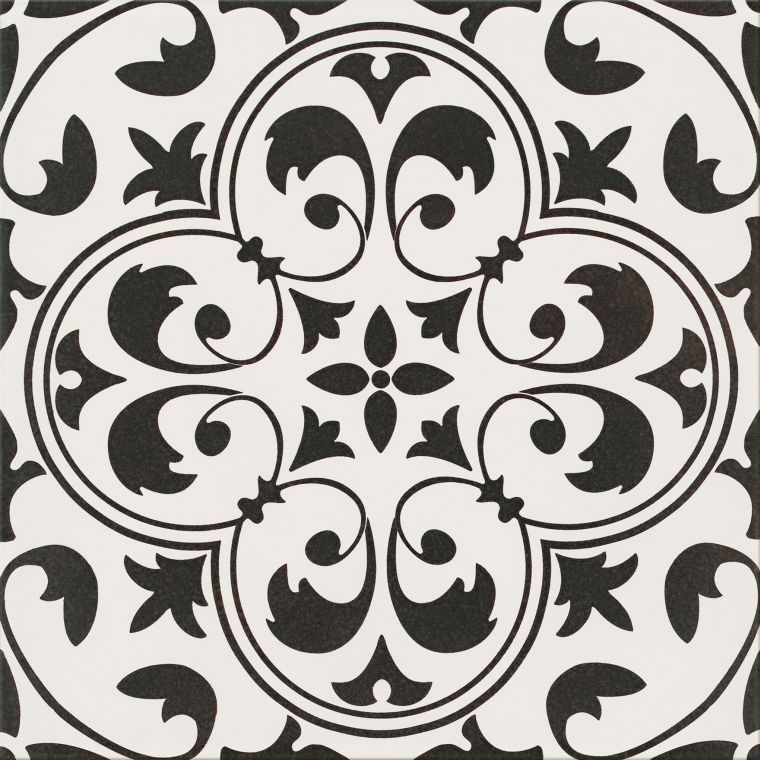 'Clover' bears a softer, simplistic design with a leafy type pattern to it. There's much more white on this particular tile than the others so it gives a cleaner, more spacious feel to it as it is not as busy. This tile looks great when used on a bathroom floor as it creates a light and airy space, especially when teamed with small, white wall tiles and lighter woody tones. By introducing a warm, wood effect tile for the shower enclosure it allows the use of complimenting, wood effect furniture in the room and adds to the calmness of this scheme. Black, white, wood and elements of greenery in the form of small succulent plants looks amazing too so don't be afraid to bring plants into the bathroom as thy thrive off the moisture in the air.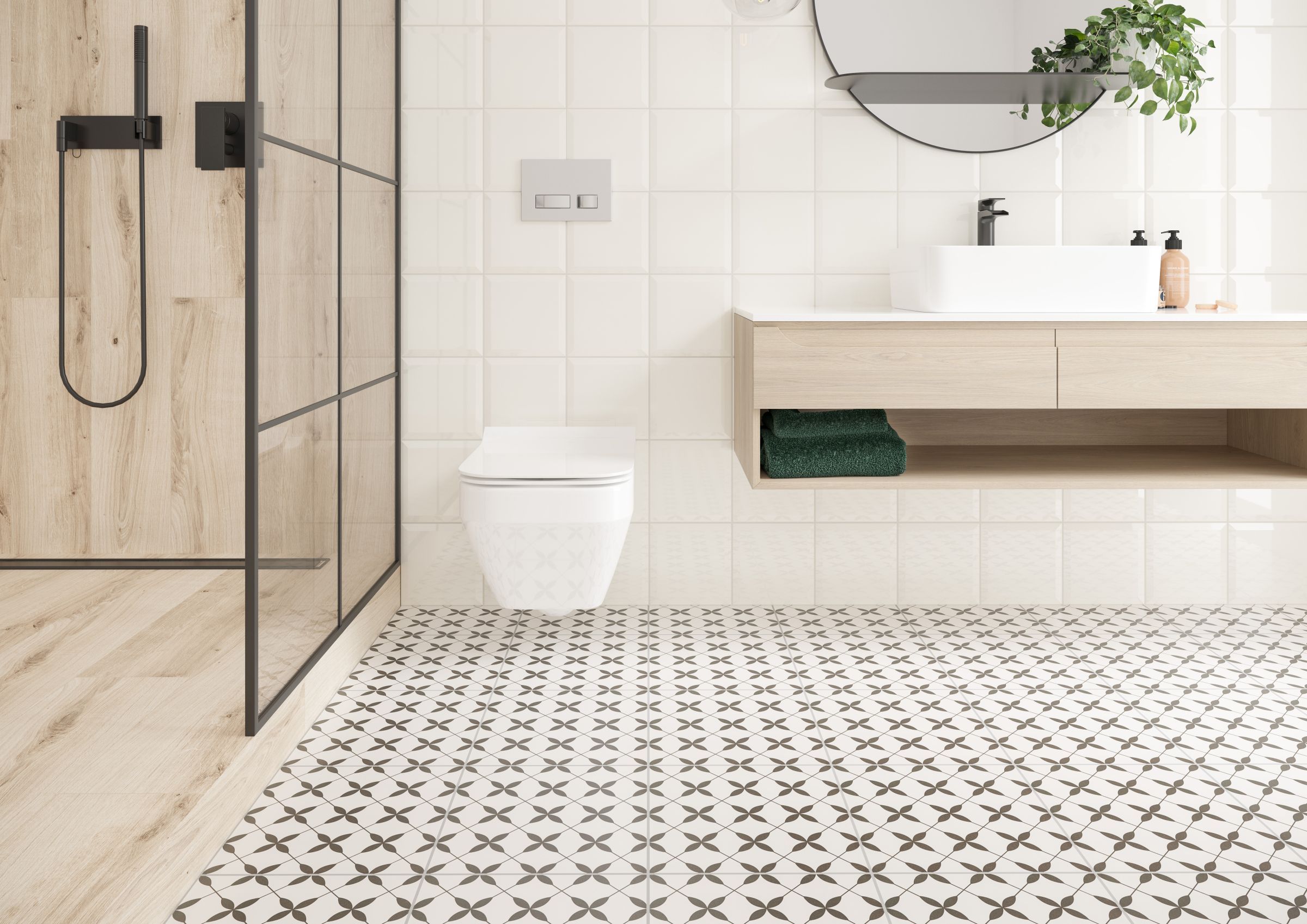 'Naomi' is ornate and quite fussy in design, similar to that of Edwardian monochrome tiles. This bold design looks really striking and eye catching which is just the look we love. Again, because this is such a busy design, we would recommend using a plainer tile for the walls but you may fancy trying it with something grey rather than the simple white we mentioned earlier. This way you could bring in another element, such as stone effect, to the space and move away from the industrial look towards something a bit more elegant. Here, the Naomi is used alongside a warm, grey stone effect tile and gold fixtures and fitting – adding a sophisticate tone to the room, especially with a contemporary, free standing bath in situ.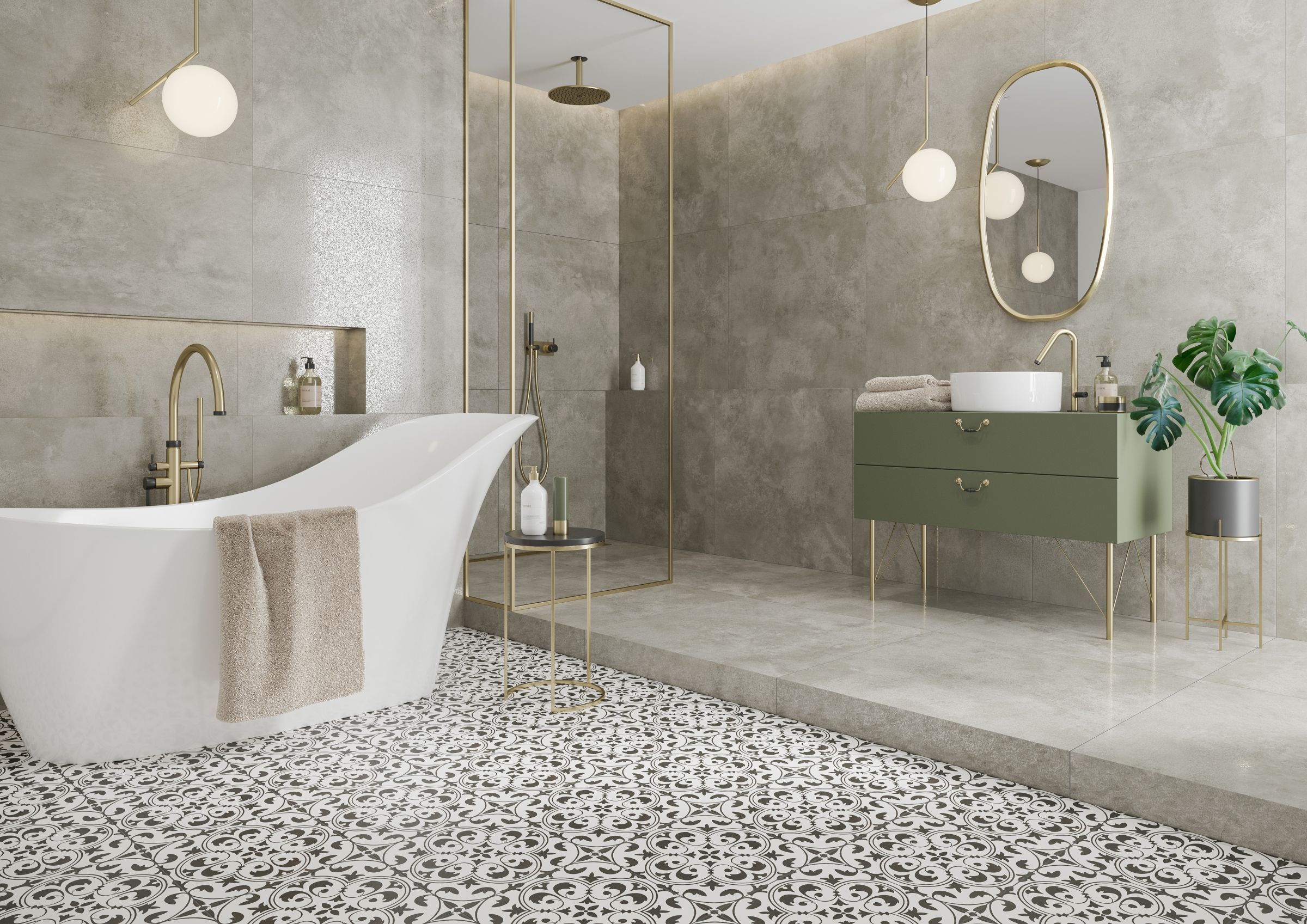 Finally we have 'Vertigo', a dramatic, geometric design. This decorative, circular pattern is strong and makes a statement. It is bold enough to be used against something simple like a plain white tile and become the main feature of the room. It sits nicely with the industrial look we've talked about already, yet its forgiving circles allow it to compliment more traditional, relaxed surroundings too. This particular tile looks great when continued from the floor, up the wall to make a feature panel, or even just used solely on the walls as shown in the image. As always, monochrome works beautifully with wood effect, so when not team with a wood effect floor and wood effect features around the bathroom? Add some rustic shelving and some clear light bulbs and you've got a completely on-trend bathroom right there!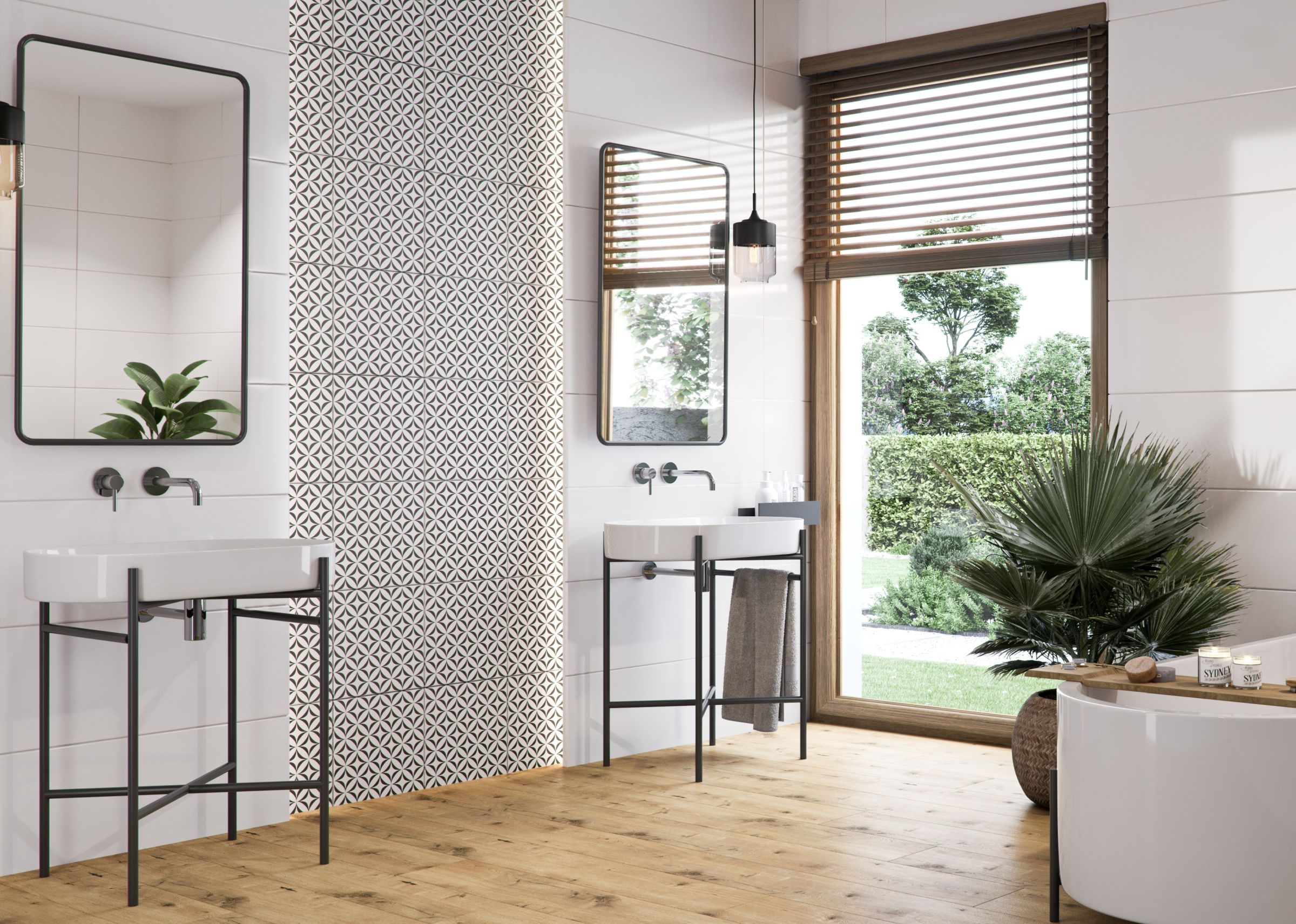 We've talked about these mostly being used for bathroom floors but there's nothing to say that these cannot look just as effective on kitchen floors, hallways floors and even as feature walls in bathrooms and kitchen splashbacks – the opportunities are endless with monochrome tiles!