Think Pink
We know what you're thinking…pink?! But yes, pink is one colour that seems to be proving popular right now, especially in kitchens. This fun, cheerful colour is being used in a variety of spaces from feature walls in living rooms, splashbacks in kitchens to adding colour in bathrooms. From pale pinks to vibrant, bold pinks, this colour seems pretty on-trend right now. Pink as a colour is versatile as it works brilliantly against concrete greys, monochrome black and white as well as masculine metallics. It can work hand in hand with wood effect tiles or natural wood in a kitchen, as it creates a softer appearance, especially when using a pale pink. If you want to create something dramatic and fresh, you can team it with bold, brights and prints such as jungle themed décor and pick out hues of featured flowers. So, maybe don't discount pink just yet.
Let's start with how to style pink in a kitchen. It is possible to get pink kitchen cupboard doors, however this seems quite a big commitment and one you have to be pretty brave to do. If having your actual kitchen pink isn't what you envisaged but you wanted to find a way to bring this fantastic colour into your home, then pink kitchen tiles is a great way to go. Instead of opting for something safe and mainstream like a white rectangular tile, why not consider tiling the walls in a pink tile? In fact, why not consider tiling in a different shaped tile to the norm and look at hexagons or triangles. Another trend that we will talk about in the coming weeks is alternative shaped tiles and we have some great examples of these in shades of pink too!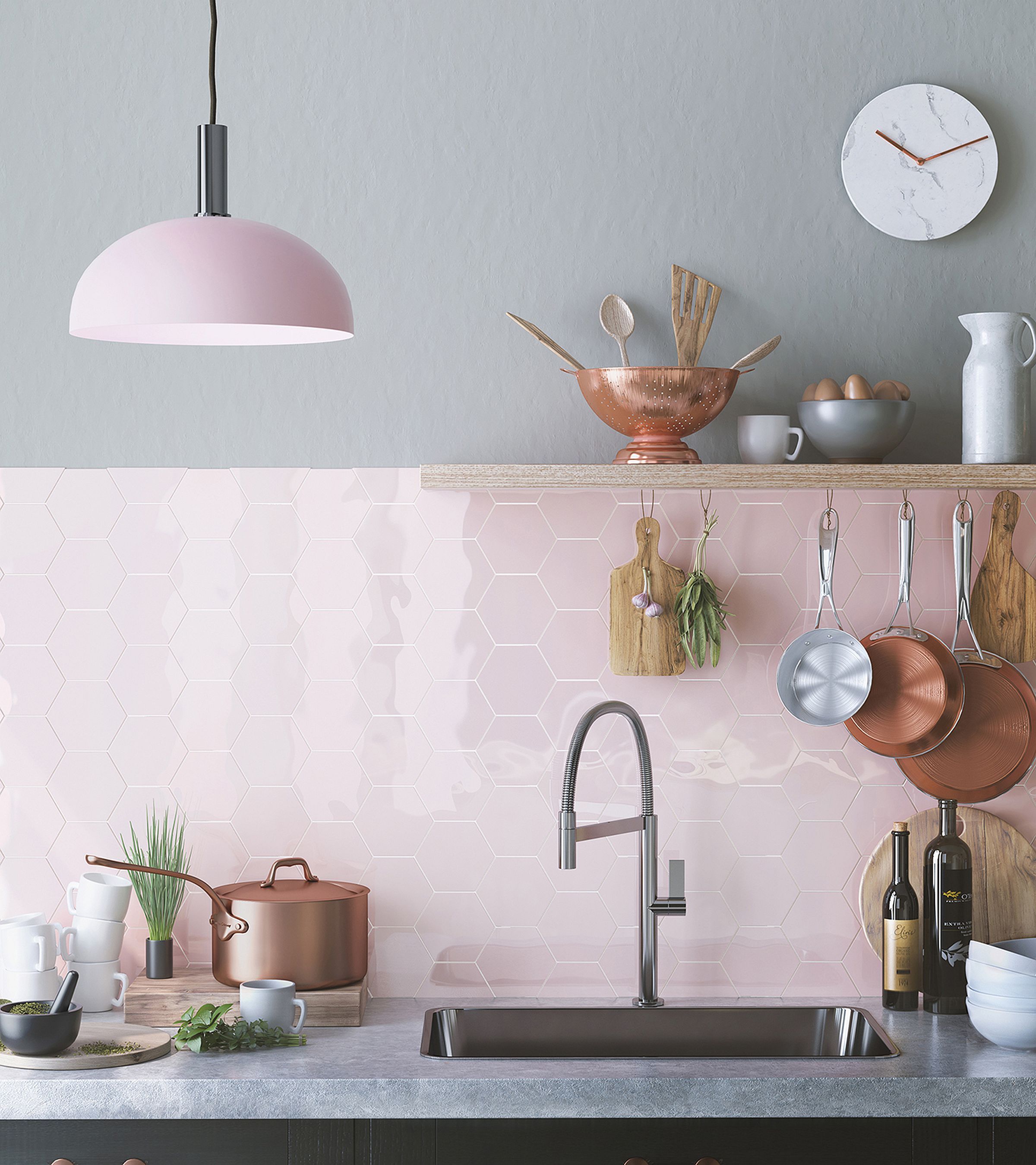 We absolutely love the Bondi collection from Bestile. Within this collection there's two designs that stand out to us: Bondi Triangle and Bondi Hexagon. This collection comes with either a matte or gloss finish so depending on what finish you choose for your cupboard doors; you could opt for the opposite on the tiles to create a contrast. Angles are all the rage again, so these geometric tiles are just perfect! As you can see in the pictures, combining with greys and wood create a calming colour scheme and work in perfect harmony.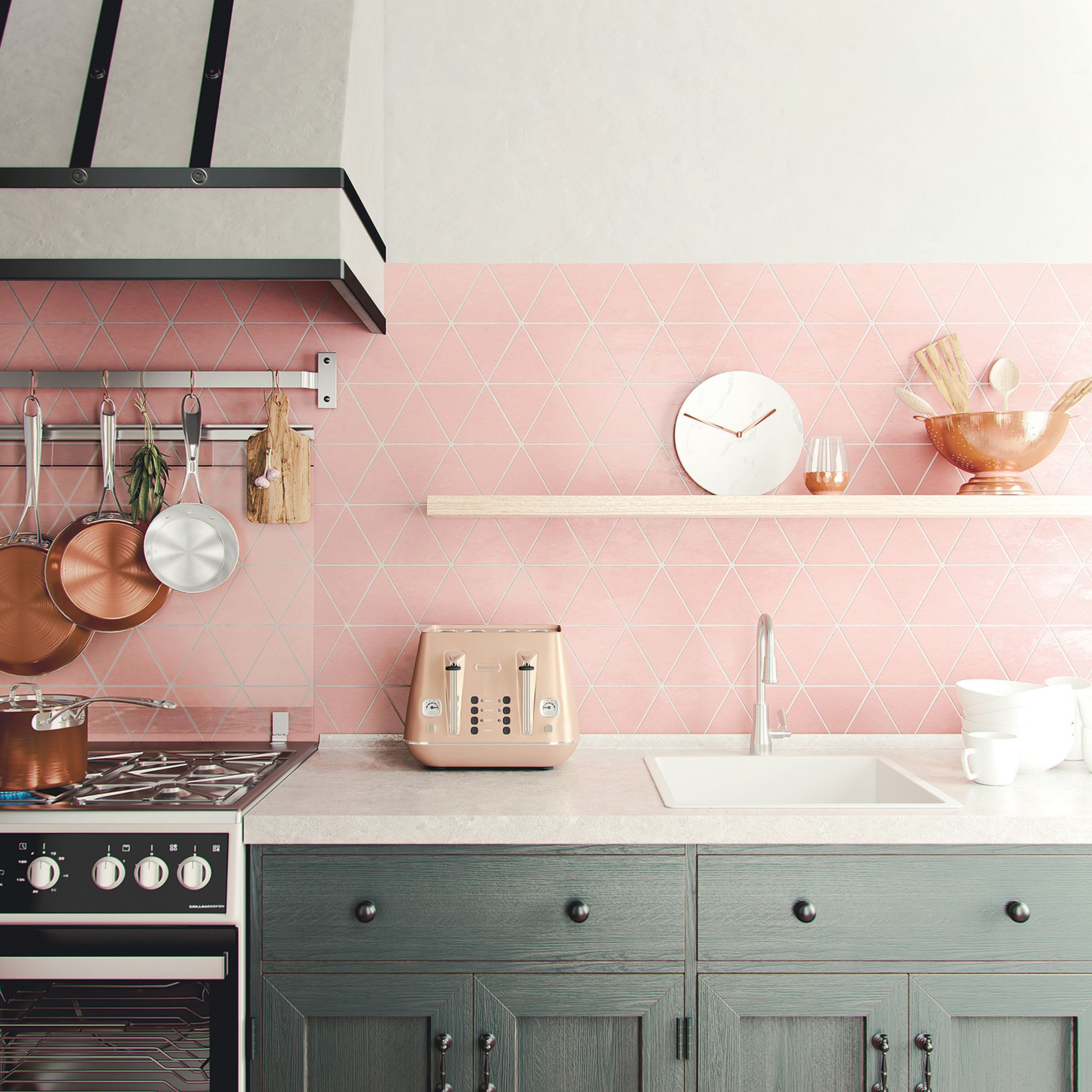 Moving on from kitchens to restaurants and cafes. It's not unusual to see bold, statement walls in hospitality and a bright colour such as pink can look really effective. For hygiene purposes, a fully tiled wall is always a good choice as its so much easier to wipe down and keep clean. Using an injection of a colour such as Aleluia's Zellige Blush in an environment like a café or patisserie, gives customers a fun and friendly vibe. Teamed with chrome fixtures and fittings, a colour pop of pink tiles makes for a perfect backdrop whilst drinking a cuppa and eating a cake!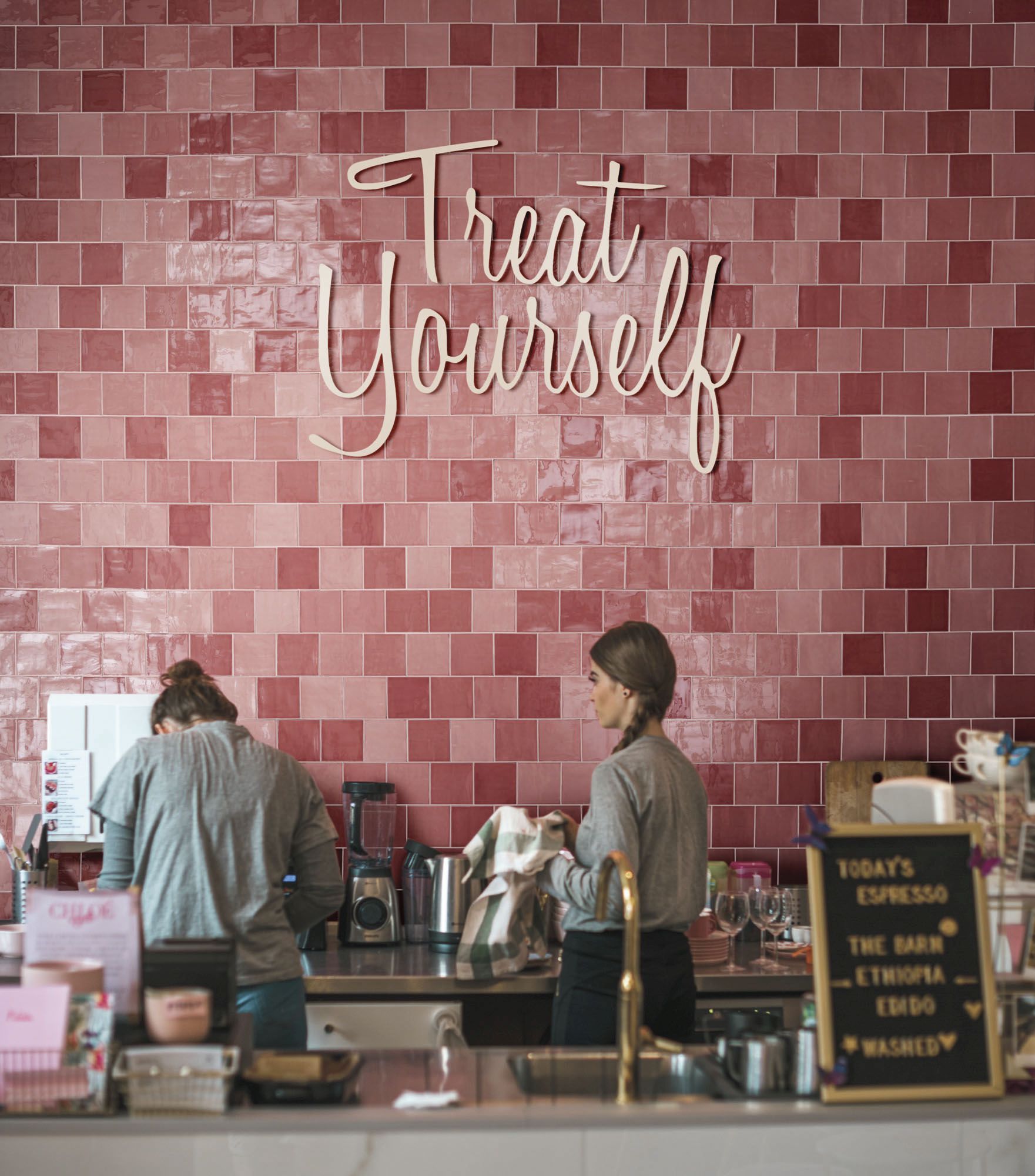 Move over clinical white bathrooms and beige spa suites, Hello! daring candyfloss colour scheme. We mentioned earlier that pink works so well with grey and white tones and a prime example of this is the Agatha Carnival collection below. You may feel that completely tiling a bathroom in pink is pretty overwhelming, this is where you can look at just doing particular areas. The perfect location for a bit of colour is behind the basin as a splash back area or inside the shower cubicle. This adds accent colours to specific areas, allowing you to complete the rest of the room in more neutral colours such as greys and whites like we mentioned earlier.