We need to talk about Terrazzo
The Italian terrazzo trend is sweeping the world of interior design and it's one that we absolutely love! 'Terrazzo' means terrace in Italian and was originally created a few centuries ago, featuring heavily in Palazzos, expensive townhouses owned by wealthy Italians. Traditionally it's a mixture of discarded marble, granite, quartz and glass chips embedded in cement or resin, renowned for being a durable surface.
Fast forward to modern times and it is a style replicated by many a reputable tile factory. Technology within the print process of tiles is so advanced that the replications of terrazzo are so realistic that at times you'd struggle to tell the difference. The beauty of having a porcelain version is that there is very little maintenance and these won't stain or wear, whereas real terrazzo could absorb the colour of a stain if the composition is made up of a porous material. Porous materials need ongoing sealing and treating to give the ongoing protection. Obviously, there's the cost of the real thing too, resin terrazzo is more costly than cement-based terrazzo but resin is more durable. As we mentioned earlier, porous materials like cement could stain, not to mention the cost of installation and the depth of space required too. Porcelain versions of terrazzo tiles work out more cost effective to buy, are just as durable as resin and likely to be a cheaper installation too. In general, terrazzo effect tiles are 10mm thick which adds very little height to a floor, however real terrazzo requires planning into a project so that the floor can meet the existing levels of the rest of the adjacent floors.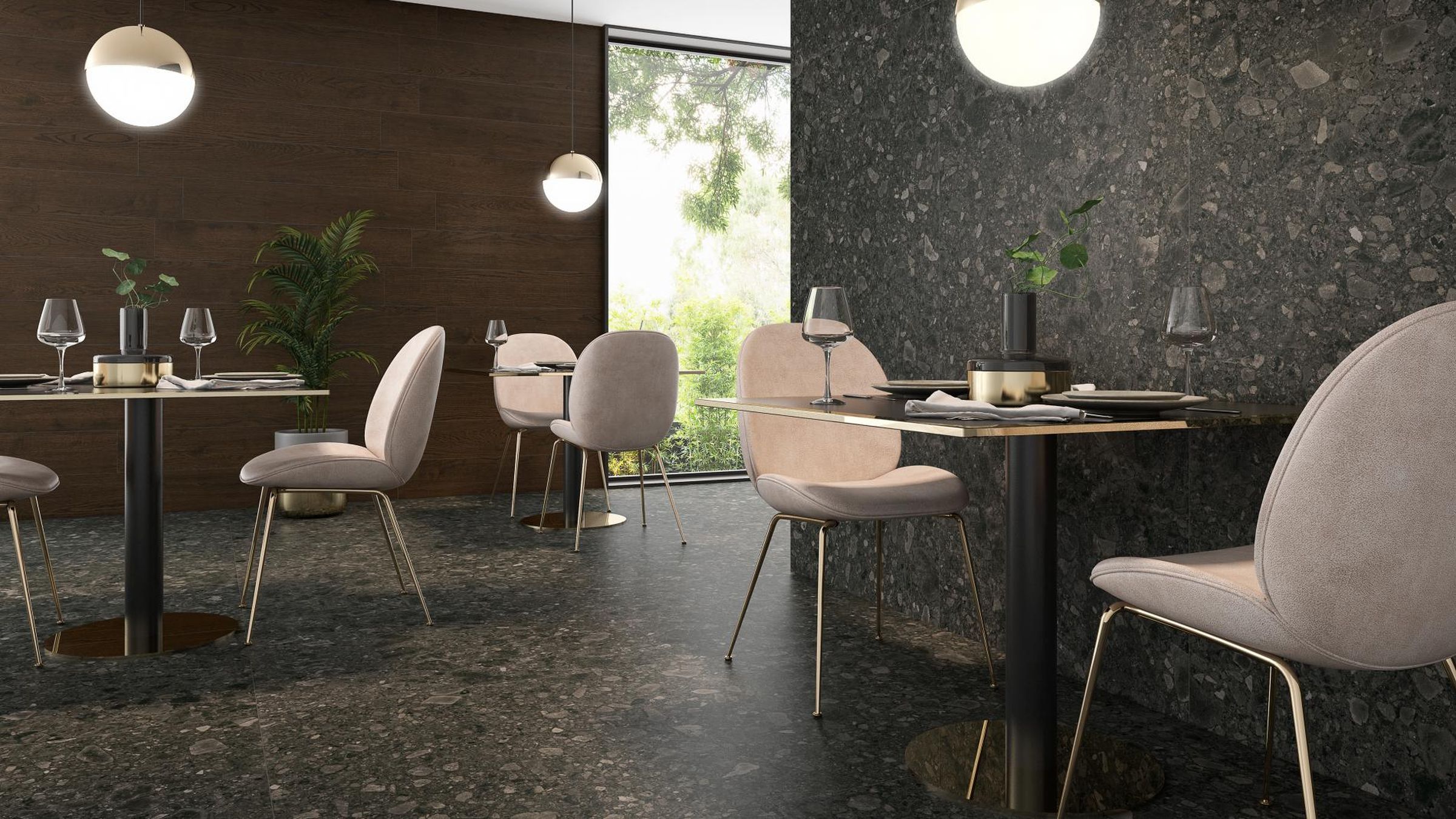 What is it we love so much?
What's not to love?! Terrazzo is FUN and there's so many options out there now so you can go bold and dramatic with big flecks in like the 'Medley' collection by Emil Group, or keep it subtle and light with smaller flecks such as the 'Hika' collection by Cersanit. There's also such a variety of colour schemes available too, whether it's the background colour or the colour of the flecks and these span from understated, muted tones to big, bright colours. As with current trends, influenced heavily by the improved capabilities in the production process, terrazzo effect tiles are made in large format as well as regular sized tiles. We just love large format so this ticks another box for us. Factories are able to produce terrazzo effect in formats that traditional terrazzo isn't available in either such as hexagons, chevrons and triangles, so you can use it in ways that weren't originally possible.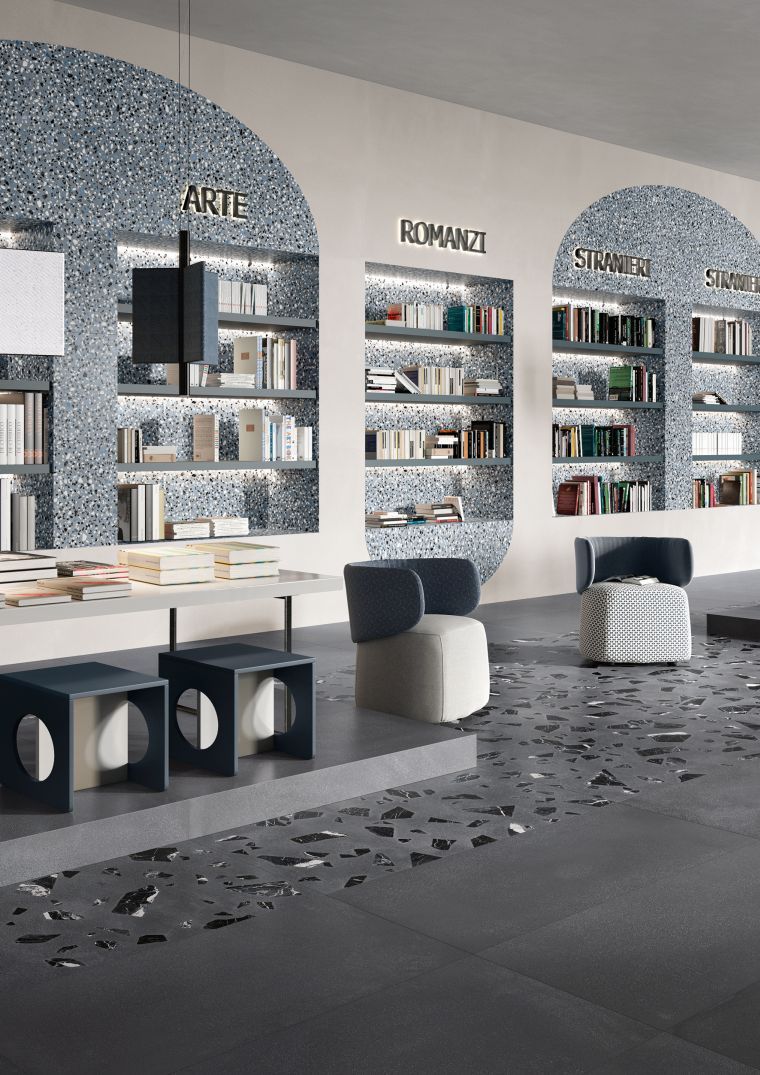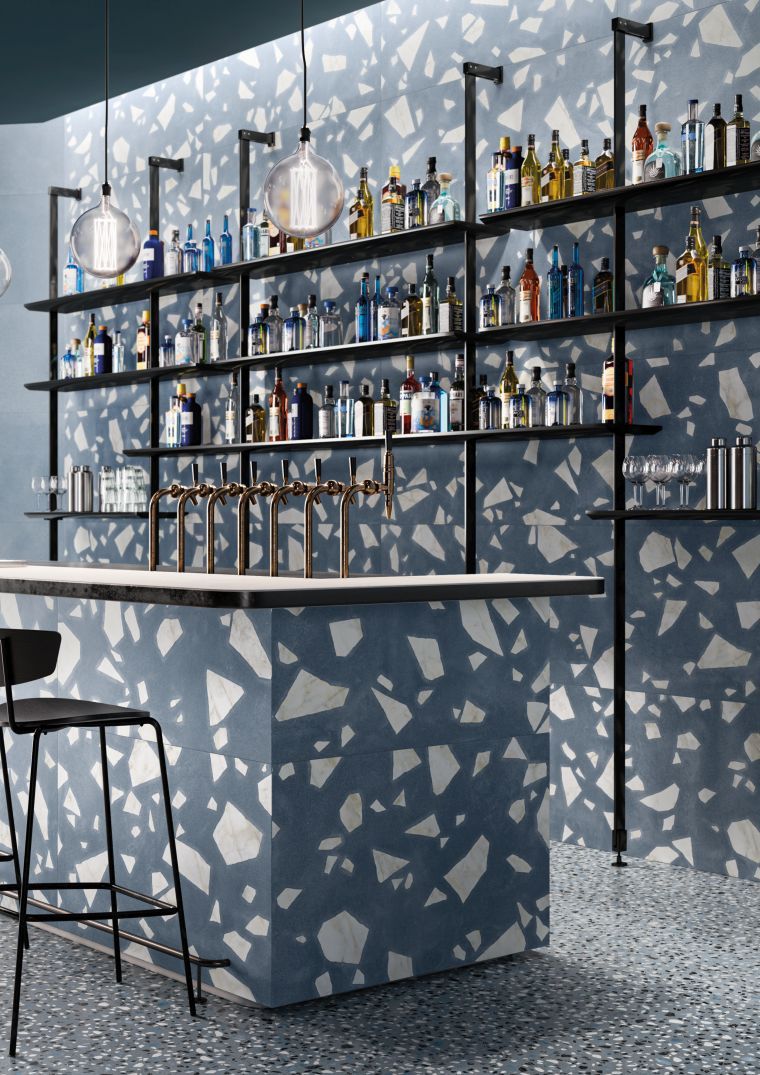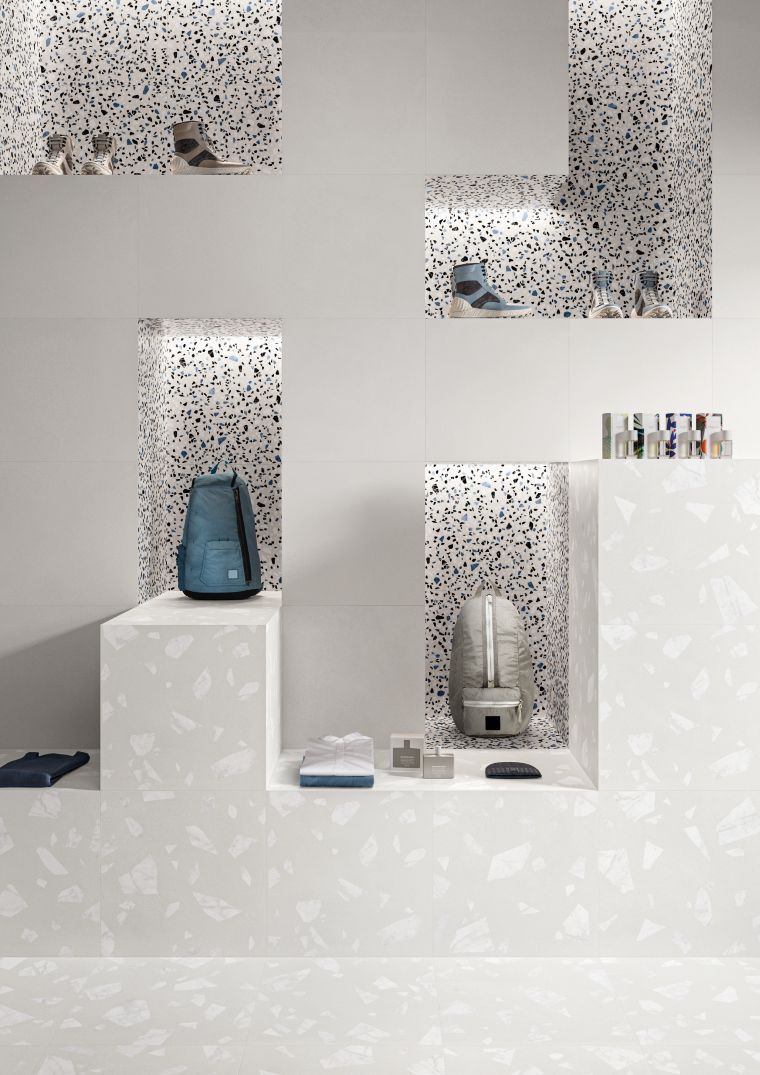 How can you incorporate terrazzo effect into your home?
Traditionally natural terrazzo was not used in wet spaces such as showering areas due to it being porous and requiring regular upkeep and maintenance. Porcelain imitations have now made it possible for terrazzo to have a place in a bathroom with no worry. You could use alongside a neutral tile as a feature wall or even inversed with a more subtle terrazzo to get the bold, wow-factor surface. There's the option of a terrazzo shower enclosure or a splashback behind a sink teamed with a large mirror. Terrazzo effect offers a variety of colour schemes for a bathroom due to the many colours featured in the flecks of the tile. You could tie it all together with towels and accessories to match your chosen fleck colour and this would look superb.
But then again, maybe you want terrazzo to feature in one of the main reception rooms within your home? Let's take the kitchen, the heart of a home and a perfect place for terrazzo. Maybe you want to wow guests with a full, statement terrazzo floor but with a more subtle colour scheme as to remain in-keeping with your home? This can be created so easily by installing large format slabs of terrazzo effect porcelain tiles such as the 'Gransasso' or 'Urbex' by Pamesa. These collections are available in dimensions such as 60x120cm, 120x120cm and 90x180cm! Another option to bring terrazzo effect into your kitchen is as a splashback behind the sink and hob area in a colour scheme that is complimentary to your kitchen units and worktops.
However you wish to use terrazzo effect tiles, we're sure that there will be a collection to suit your needs. Pop into one of our showrooms to look at our displays for more inspiration.