20mm Porcelain Outdoor Tiles
Outdoor living in the UK is on the up, especially with the aftermath of Covid-19 and travel restrictions still in place. If we've learnt anything in the last 12 months it's how much we appreciate the simple things in life, things we may have over looked previously. Being able to have friends round for a BBQ on a sunny day, spending time with your extended family in the garden and enjoying the things that are on our doorstep. We really do live in a beautiful country and at times we wonder if there really is a need to go abroad as much as we do? Families have been spending more time at home, making the most of the outside space they have and it's the perfect time of year to revamp the garden.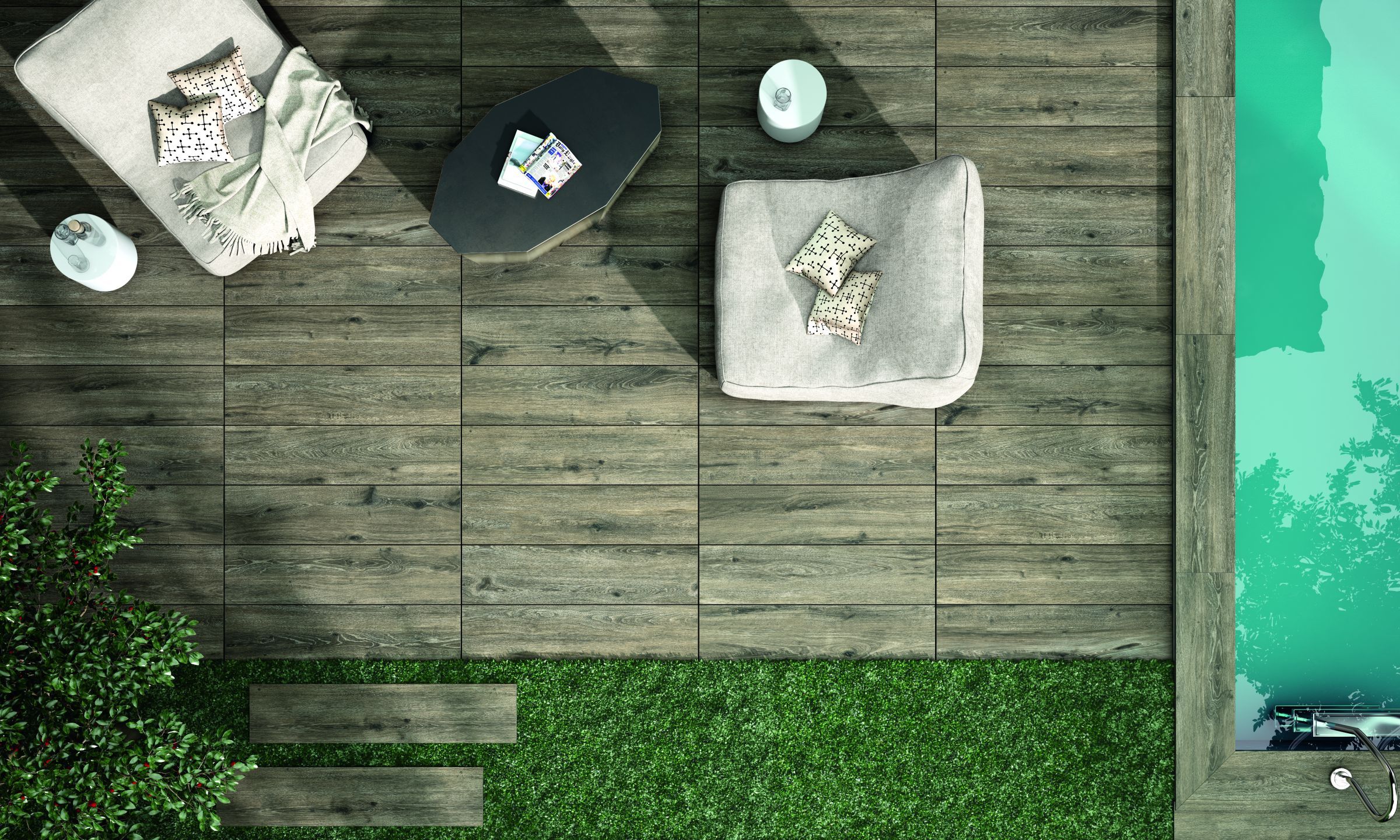 Due to the advances in technology within the printing process of tile production, outdoor 20mm tiles are now available in so many more designs than before. You have some many more options to choose from so you can pick a colour scheme and effect that suits the style of both your home, terrace or garden. By using something that matches the interior of your home, you are able to visually extend your space both inside and out, and these tiles can be installed in variety of ways. The most obvious choice is as a standard terrace or patio, but why stop there? You could easily work these into your lawn or artificial grass in a stepping stone fashion or set them in to gravel as a pathway. Using 20mm outdoor tiles as a design feature of your outdoor space can look really smart and effective, especially if you use something like a wood effect 20mm porcelain. The contrast between the warmth of the wood and the vibrant green grass is really inviting and eye-catching and blends into natural surrounding seamlessly.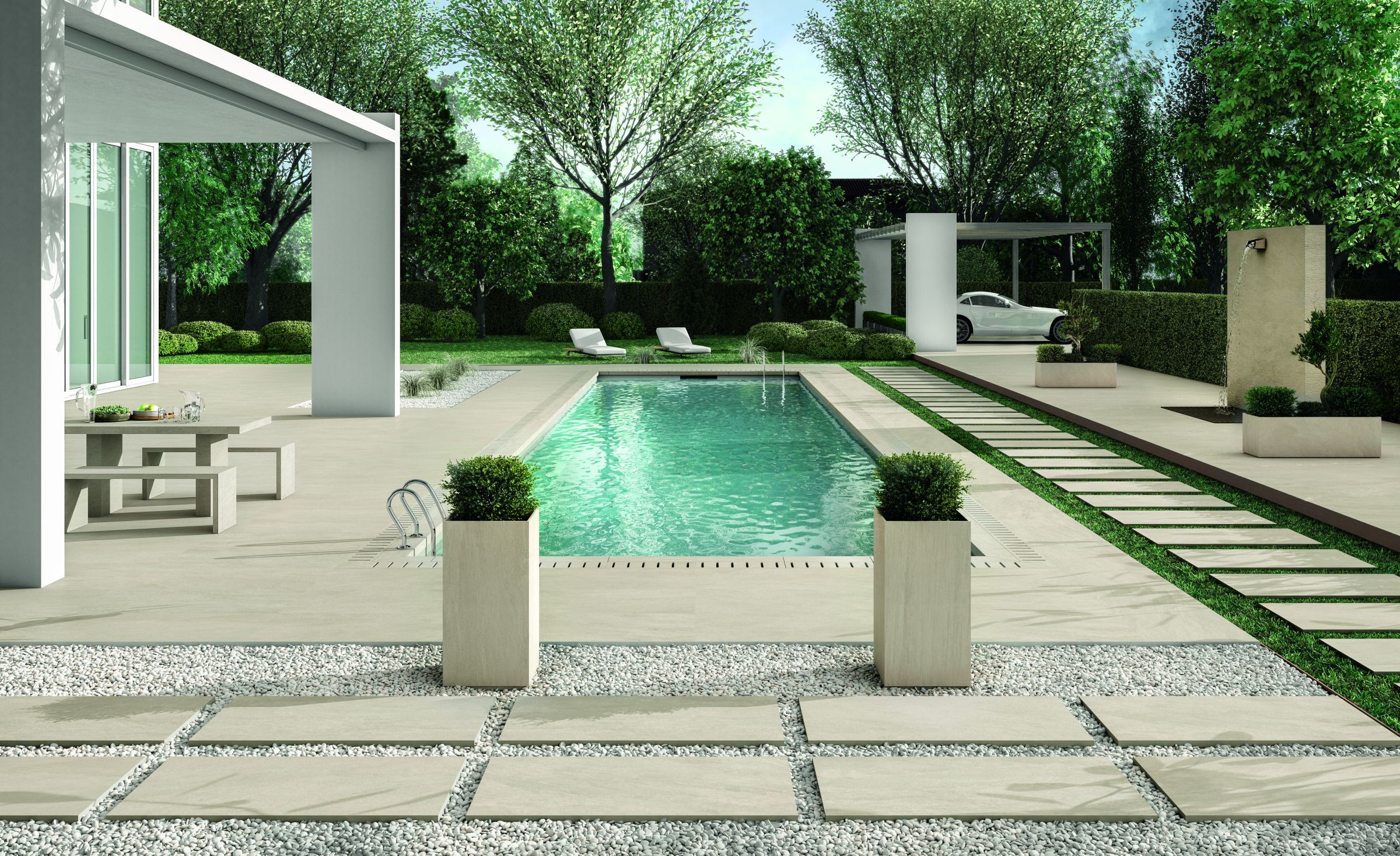 Why 20mm porcelain?
There's a variety of reasons why choosing 20mm porcelain tiles to use outdoors is a better option than using flags or decking…
Maintenance: Traditional flags need regular cleaning and sealing to retain the depth of colour and prevent staining. As porcelain is printed and glazed you do not need to seal or treat it and stubborn stains should be a thing of the past as regular tile cleaning products can be used on them. We recommend products such as 'Black Spot' and 'Algae Remover' by LTP.
Safety: Decking can be very slippery when wet, especially if it's not regularly cleaned. It can also rot if it isn't treated with the correct products ongoing – which can be a laborious task at times. Compare that to 20mm porcelain, which is produced with anti-slip qualities, and it highlights that porcelain is a sensible and safer choice for your garden.
Durability: Porcelain is STONG and you want something that is going to give maximum resistance to whatever it faces. Whether its mass foot fall, extreme weather or children's toys, you name it, porcelain will withstand it. Porcelain tiles will look as good as the day they were installed in years to come whereas other alternatives may not.
Continuity: many of the factories that produce 20mm porcelain have 10mm versions of it too, meaning that you can use 10mm inside and continue the flooring outdoors with a 20mm version, creating a perfect flow of continuity. Perfect for use with bi-folding doors, allowing you to bring the inside out and extending your home entertaining space.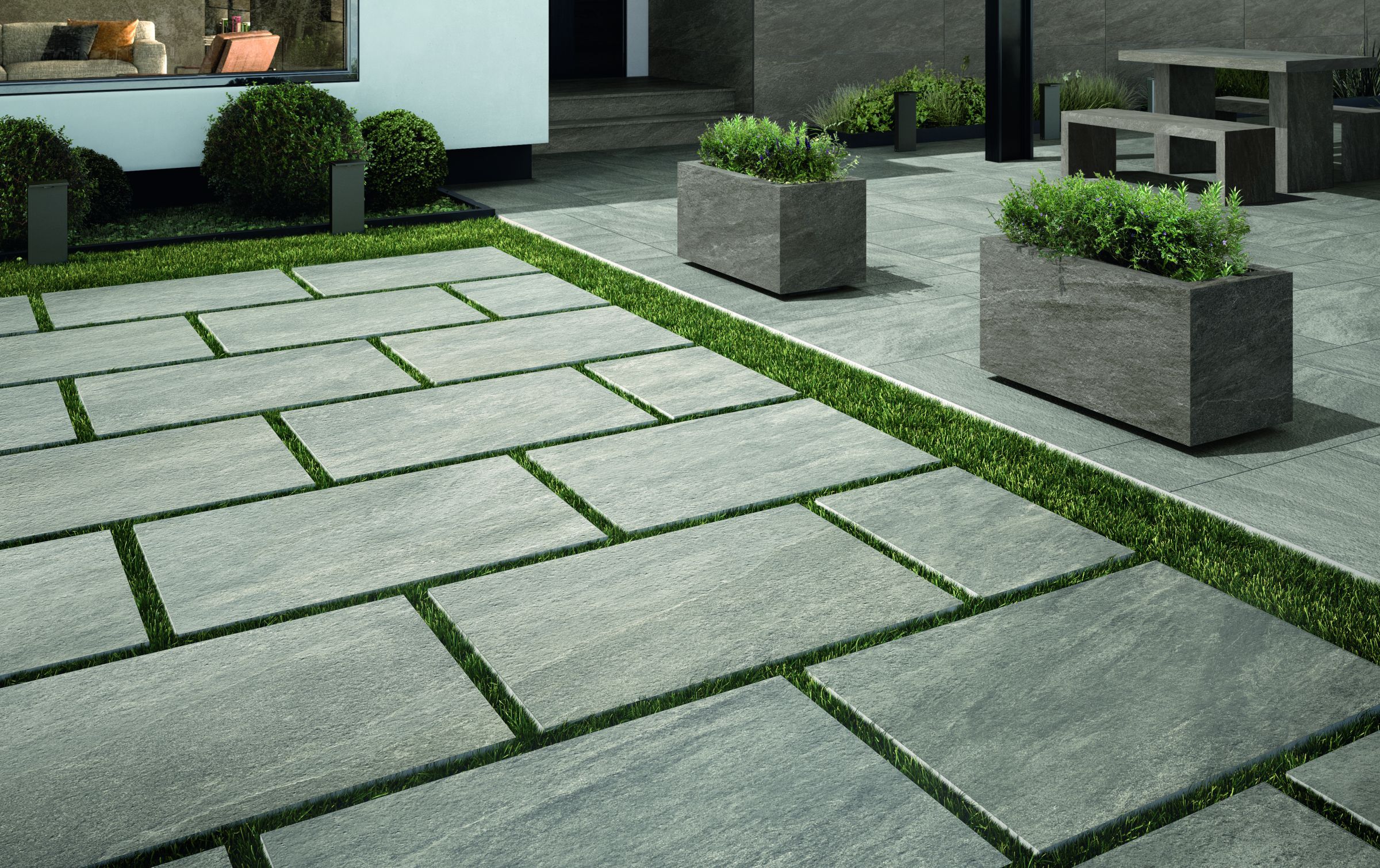 Be inspired by our selection of 20mm outdoor porcelain tiles from Novabell and find the perfect tile to compliment your garden, bring the inside out and allow yourself to reconnect with that beautiful, British nature.