20mm Porcelain Tiles
Tiles aren't just for indoor use and this is becoming more and more apparent with the new, upcoming designs that factories on the continent are producing. Porcelain is a great material to use outdoors in the UK's variable climate. It is essentially frost resistant due to the fact it absorbs practically no water, so it's perfect for outdoor use.
One of the main reasons for the factories expanding into the outdoor tile market is the desire for alfresco living. We have seen an increase in customers who are installing bi-folding doors and running the same tile design inside and out. This creates a flow of continuity, bringing the outdoors in and visa versa, essentially creating an extension of the home. Tile factories create the same tiles in varying thicknesses for this very reason and this means you can use 20mm porcelain tiles outdoors and then the 10mm thickness indoors. One great example of this is the X-Rock Collection by Imola. It's textured, matte finish is perfect for creating a safe, non-slip surface for outdoors and it is available in both indoor and outdoor format.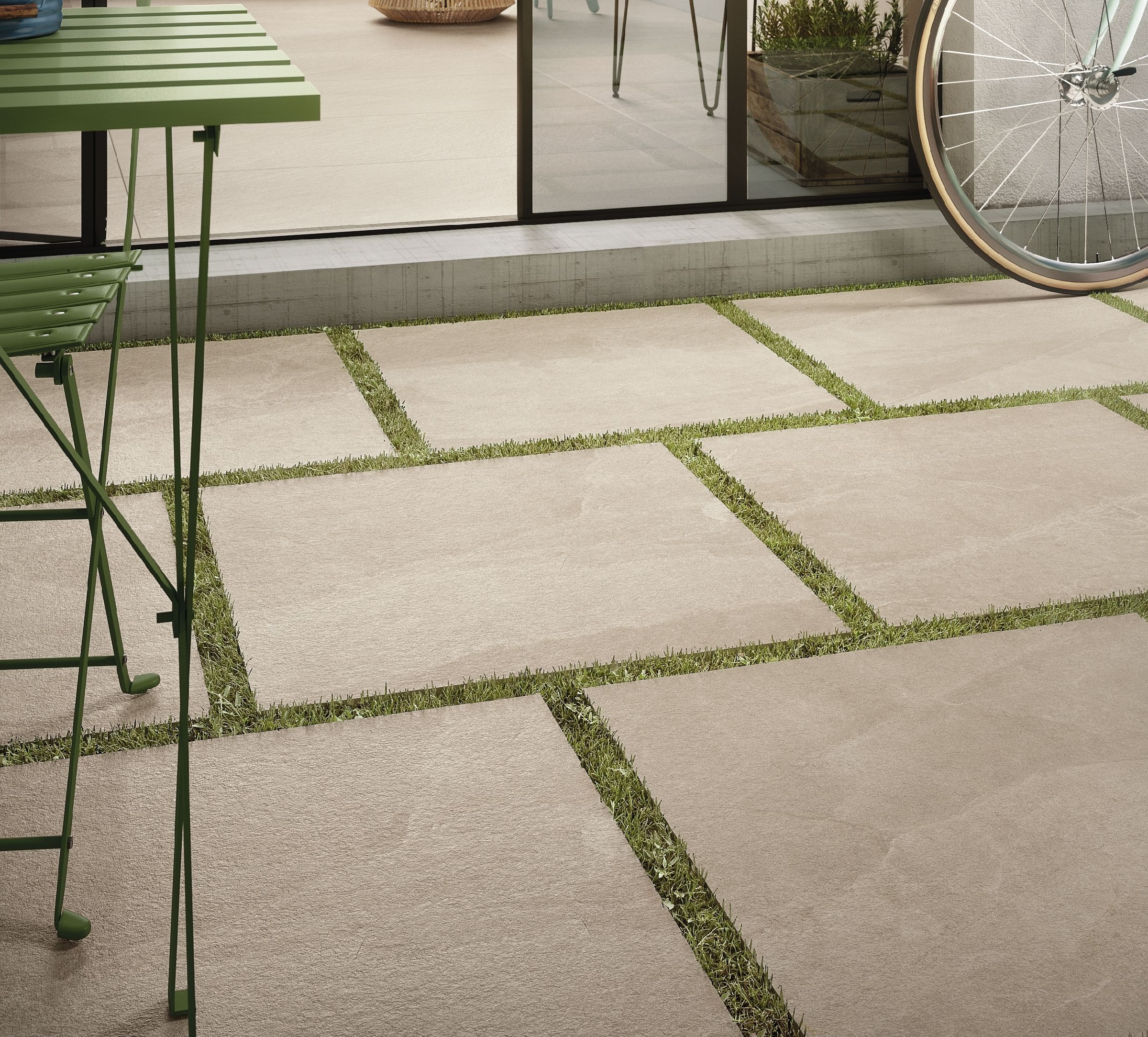 The UK's love for outdoor living has caught up with that of the continent. This in return has called for retailers and restaurateurs to revolutionise the designs of their outdoor spaces to create extra, external seating. The use of 20mm porcelain tiles in the commercial sector is just as popular as the domestic sector because they are so versatile and low maintenance. Porcelain tiles are easy to clean, unlikely to ever stain and highly unlikely to damage which means very few issues for owners.
20mm porcelain tiles have a uniformed thickness unlike traditional outdoor paving flags which are naturally uneven. The tiles all having the same thickness resulting in an even and seamless floor. Another benefit of outdoor tiles is the porcelain isn't affected by weather. The sun will never cause discolouring and rain water doesn't attract moss and algae. 20mm Porcelain tiles are a great material to use outdoors in the UK's variable climate as porcelain is frost resistant as well as low maintenance.
Traditionally external porcelain tiles were square stone effect 60x60cm tiles, however now there's a plethora of sizes and designs available on the market. Spanning from 30x120cm wood effect planks right up to 60x90cm stone effect tiles. The Anglia tile by Pamesa is a great example of a collection that offers both 10mm and 20mm porcelain tiles for use in outdoor living.