Go Green with Rees Tiles
We all know how important it is to look after the world we live in and here at Rees Tiles we are trying our best to have environmentally friendly products as part of the items we stock.

We have great partnership with Kerakoll Adhesives, a GreenBuilding company, who manufacture environmentally friendly adhesives, grouts and other tiling products. GreenBuilding has become a fast-growing trend that can drastically reduce the harm done to the ecosystem and help to improve the physical and psychological wellbeing of people inside buildings. According to recent research, 20% of Western population is affected by 'Sick Building Syndrome' (headaches, nausea, irritations) and these can be traced to poor quality construction materials of chemical origin and to the low breathability of buildings. Kerakoll focus on the environmental sustainability of a home as it relates to the health of its inhabitants. They believe the key factors of healthy housing are indoor air quality, advanced environmental and energy standards, and healthy spaces that exist in harmony with nature.

We stock a variety of Kerakoll Adhesives, one for every surface and scenario you might say, and these have been produced with a low environmental impact therefore healthier for the fitter and homeowner. Whether its concrete or wood, porcelain or ceramic, walls or floors, rapid or standard set – we stock a suitable adhesive. These adhesives technically out perform any other others in the market due to the reduction of chemicals used during production process, high quality components and vigorous testing…meaning a healthier product for you.
One of our favourites right now is the 'Biogel No Limits' adhesive. No Limits is a white standard set adhesive. It is highly flexible and suitable for use on walls and floors including concrete floors. This adhesive is STRONG….strong enough for very heavy porcelain tiles and large format tiles as well as ceramic tiles. No Limits is suitable for underfloor heating, wetrooms and for use indoors and outdoors. And on top of ALL that, it is a 'Green' eco-friendly product…it is a Superhero in the adhesive world!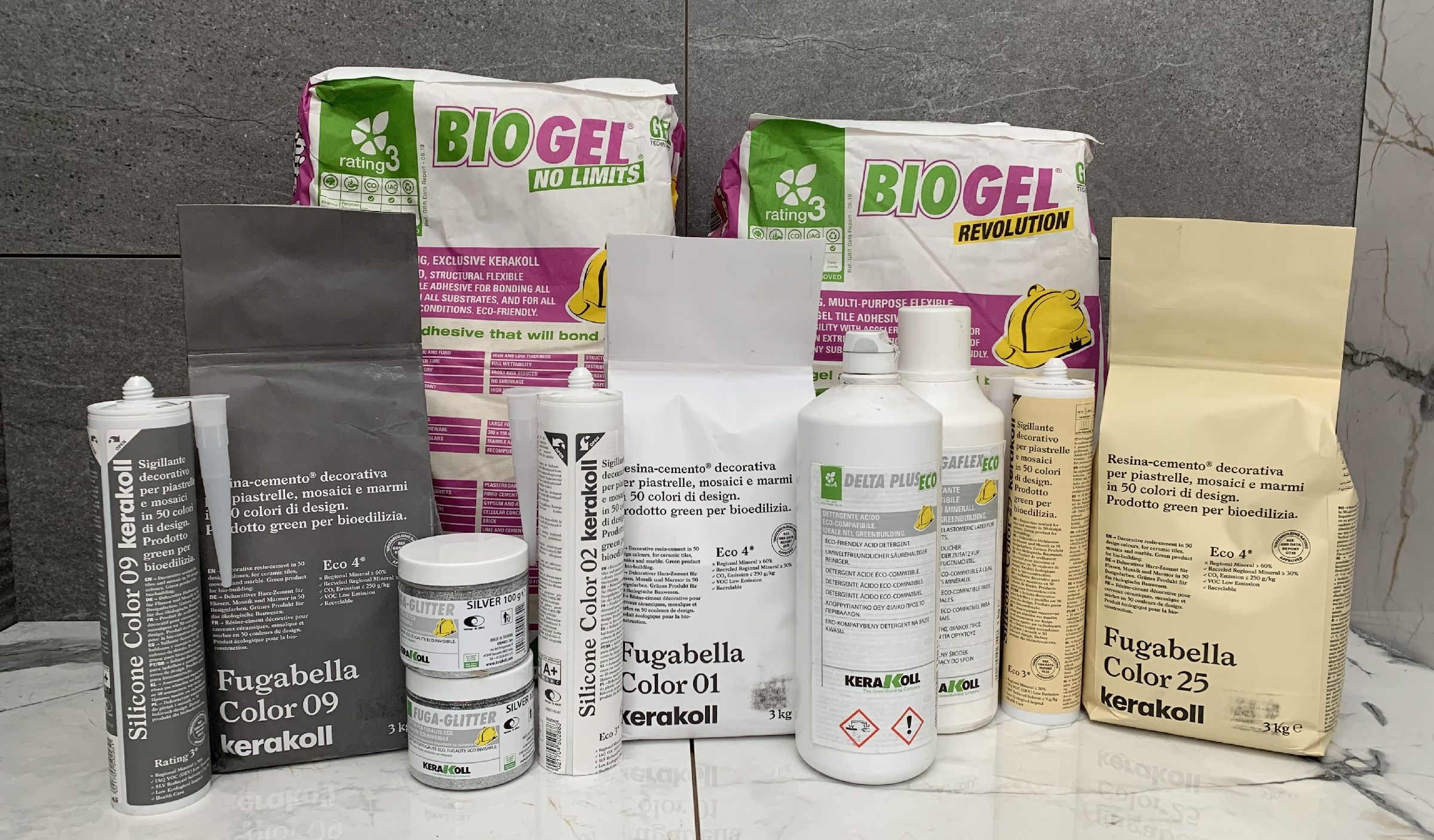 Why tilers love Biogel No Limits
It doesn't thicken in the bucket meaning a longer usage time
High grab – no need to baton out when tiling so the job is quicker
The mix never shrinks so you don't have to mix it in a particular way
It is an easy product to work with as its soft and smooth
It is a reliable and consistent product
Suitable for use with a variety of substrates so is multipurpose
As well as adhesives we have Kerakoll Grouts and Silicones. One particularly special grout is the Fugalite Eco, a grout that dries like a ceramic tile rather than a regular grout. This means that the grout is stain, water and bacterial resistant, perfect for use in kitchens and bathrooms, even better if you have children or grandchildren around that spill things! You will never lose the original colour of the grout and it will never go mouldy from water penetrating, no other product in the market can offer you this finish when it comes to grout.