What flooring is right for you?
It's always a big question what kind of flooring is suitable in the space that you're working with and there are several factors to consider. The first and most obvious thing is budget, how much you can spend and what size of area you are working with. It is sensible to set a limit on what your top expenditure for the whole project is and then decide what percentage of that is dedicated to flooring. Spaces such as hallways or open plan diners can be vast, so it might be better to look at more cost-effective solutions to install if budget is an issue. Bathroom floors are usually smaller, along with some smaller kitchens, so you could treat yourself to a bit more of a luxury there.
After that you may need to consider things like do you wish to install underfloor heating? As certain products will not allow for this. Are there any external doors opening on to it? Could there be slip hazards created by wet weather externally being walked in? The list is likely to go on and on, but we've put together a few key things below to help you make the right choice…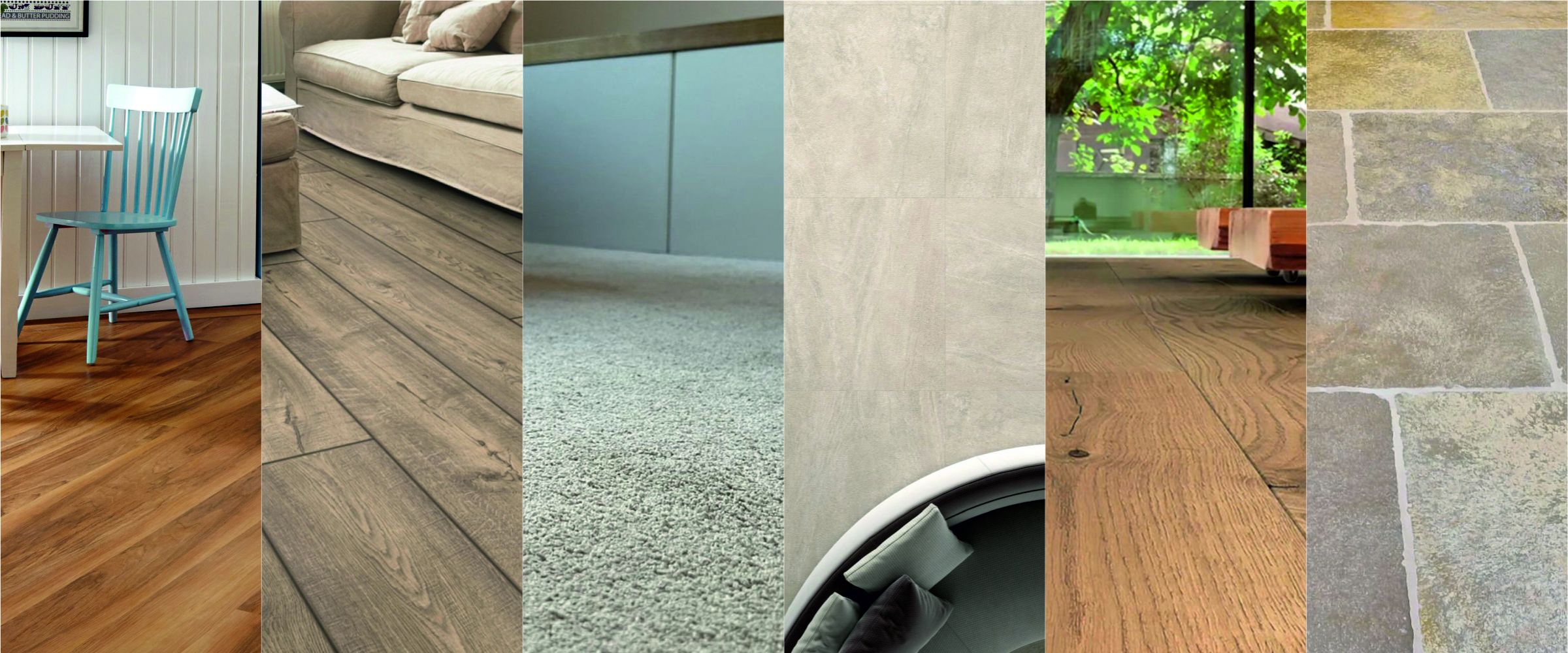 Tiles
Over the years technology has come on leaps and bounds, meaning that tile production has become so much more realistic in terms of prints, and much more cost-effective to produce in larger quantities. Traditionally tiles were made of ceramic clay, and this dates way back beyond even Roman times! Now there's an alternative material, Porcelain, and this a relatively new material to use for tiles production in the grand scheme of things. Porcelain is a denser material, more durable and favoured more in home renovations – you can ever drive cars on it! Both Ceramic and Porcelain tiles come in a variety of sizes, in both square and rectangular format, so a great option for all sorts of room shapes. The realistic print, sometimes so realistic it's hard to tell it isn't the real thing, is applied to the top layer then is fired with either a matte, gloss or semi-gloss finish. After this, there is no further requirement to seal or treat the tile, just install, grout and you're done. Wipe clean, low maintenance and beautiful to look at!
Advantages
Low maintenance – no requirement to seal or treat over the years
Durable and hardwearing
Cheaper than natural stone and wood products
Lots of variety in terms of design and size – very large formats
Moisture, scratch and dint resistant
Suitable for underfloor heating
Outdoor 20mm and Anti-slip versions
Co-ordinating wall tiles
Disadvantages
Cooler under foot than alternative products
Some designs and sizes can get quite expensive
Expensive to change once installed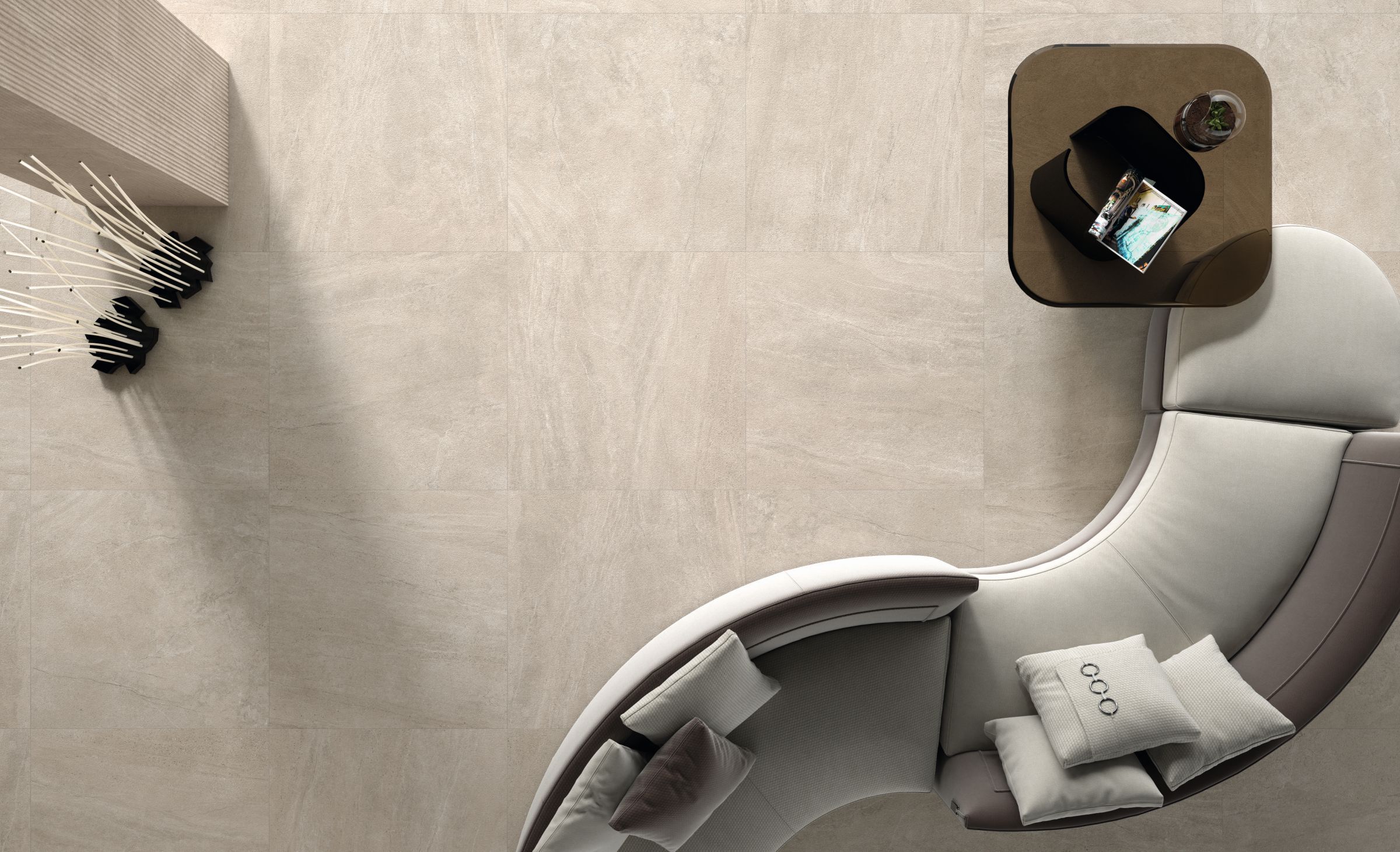 LVT
Compromising of multiple layers of PVC vinyl and various other compounds, LVT (Luxury Vinyl Tiles) is a great alternative to consider for flooring. When you hear the term 'vinyl flooring' you immediately think of a thin, ill-fitting roll of vinyl, but that is simply not the case anymore. LVT comes in either tiles or planks, usually around 3-5mm in thickness, and printed with realistic wood or stone effect finishes. The thin profile of LVT allows for minimal disruption for any existing fixtures around the home too. These tiles and planks vary in size and you can create some fantastic effects with them, like herringbone for example. LVT is suitable for use in all spaces, including bathrooms and can be used with Underfloor heating products too. It is worth noting that the sub floor needs to be completely level so it will require boarding or screeding before the LVT is fitted.
Advantages
Warmer underfoot than alternatives
Thin, so won't require doors to be planed
Variety of colours, textures and shades
No ongoing maintenance required
Suitable for underfloor heating if heat resistant adhesive used
Waterproof
Available in stick down, click down floating and loose lay
Disadvantages
Completely level sub-floor required
Can sometimes be expensive if you want different layouts and patterns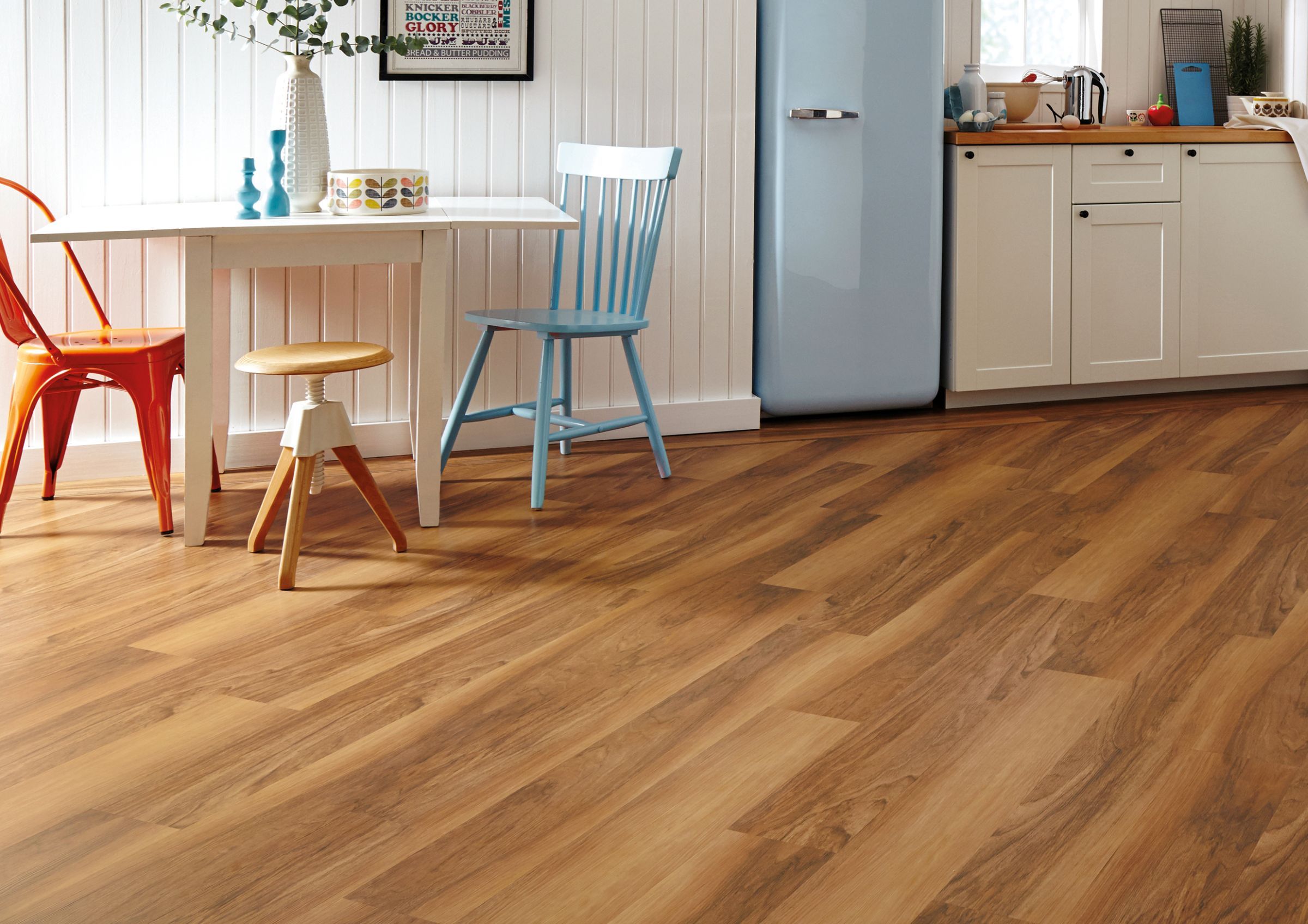 Laminate
This cheaper alternative to the likes of real wood or engineered is something that customers on a budget might consider. It is usually cheaper to install and could even be done without the likes of a tradesperson if you're quite handy. Laminate is a synthetic product, made up of layers and finished with a photographic print on the top layer of wood effect (usually). The top layer has an element of waterproofing so it can cope with occasional spillages, it also usually has some kind of protective layer to help reduce scratches. The middle layer is high density fibreboard (HDF) and the lower layer is a balancing layer designed to give additional strength and prevent any warping or bowing when being installed. Each plank length has a click system on the side so it all slots into place together and essentially floats on top of an underlay.
Advantages
Usually cheaper
Relatively quick and easy to install
Can be installed over existing flooring
A lot more choice in design than real wood (grey woods and unusual colours)
Disadvantages
Not really recommended for use in bathrooms or kitchens due to water
Can sometimes look cheap
Can mark/scratch
Cannot be sanded and re-varnished
Can be noisy when walked on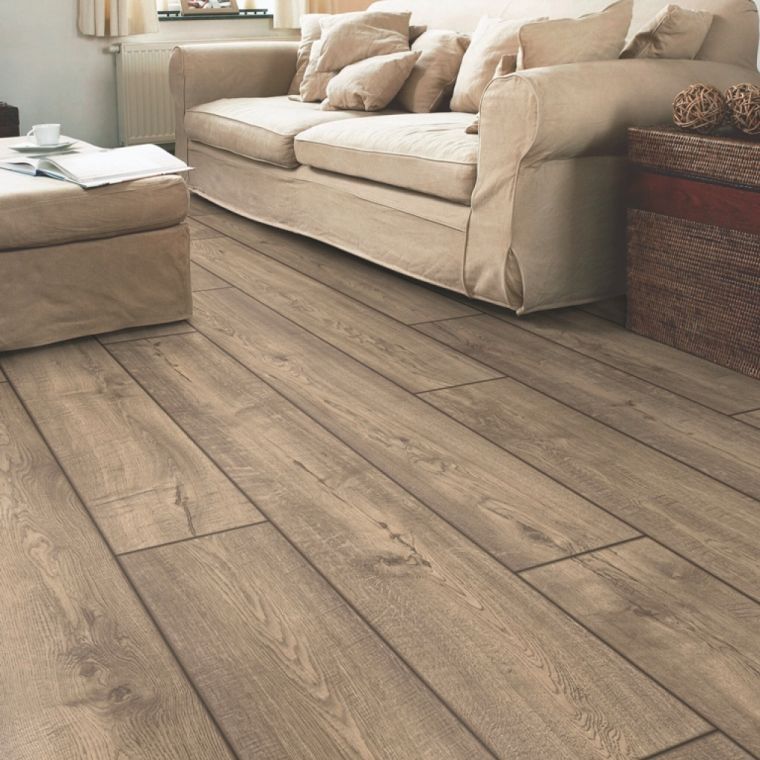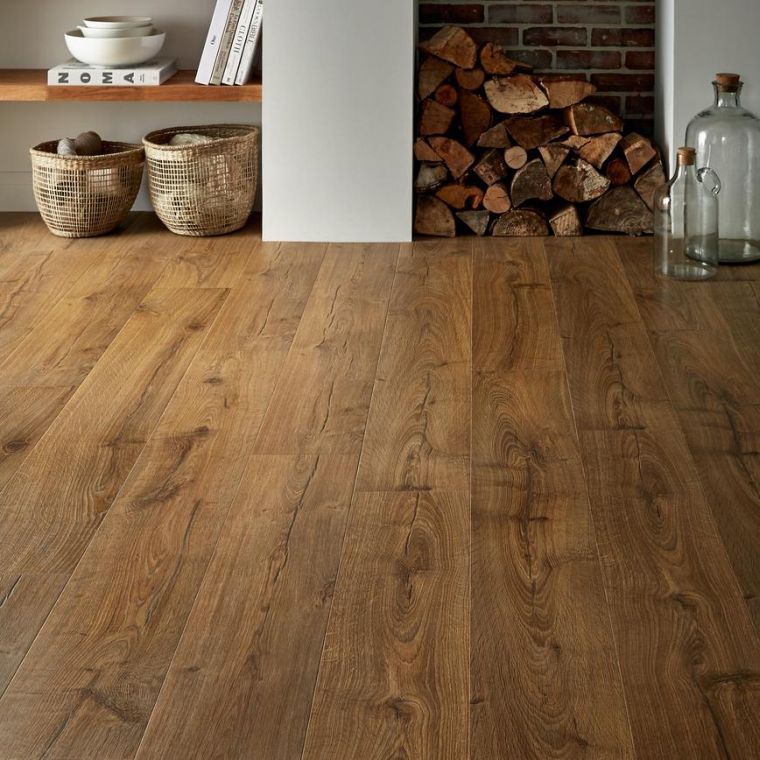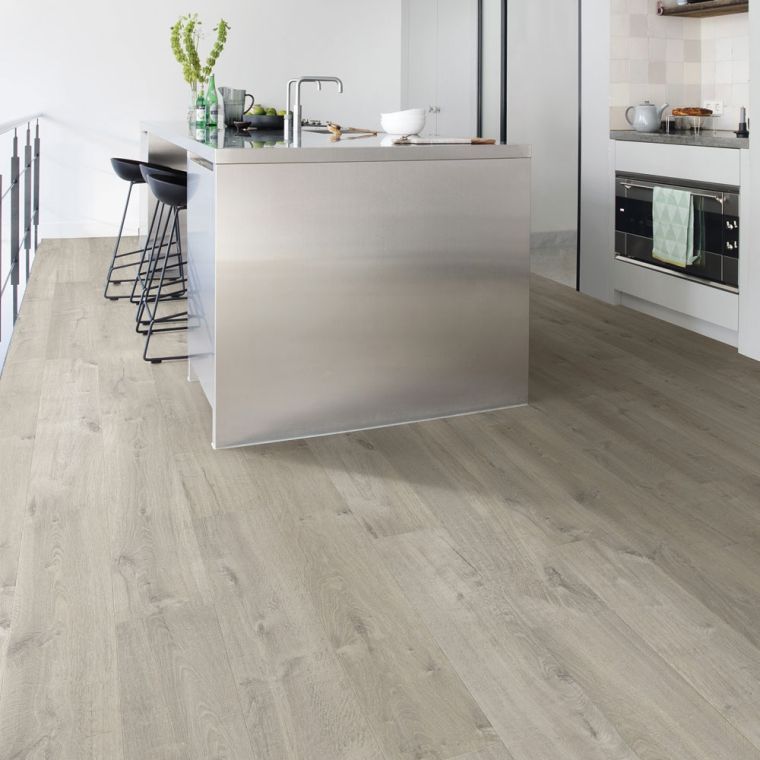 Engineered Wood
Because of its natural appearance, engineered wood is a super versatile product that compliments all kinds of interiors and spaces. It can work amazingly well in a contemporary space, bringing warmth to a room, contrasting with the modern fixtures and fittings, yet it slots into a rustic, country style space just as easily. There's a variety of grains, tones and styles available, with subtle or very obvious knots and depending on the finish you are looking for you could oil or lacquer it.
Advantages
Strong and hardwearing
Can be restored by sanding and refinishing (but only limited times)
Compliments a multitude of settings
A desirable product when selling a home
Disadvantages
Needs upkeep which can be costly
Expensive to initially purchase
Not suitable for bathroom due risk of moisture exposure
Can scratch/scuff easily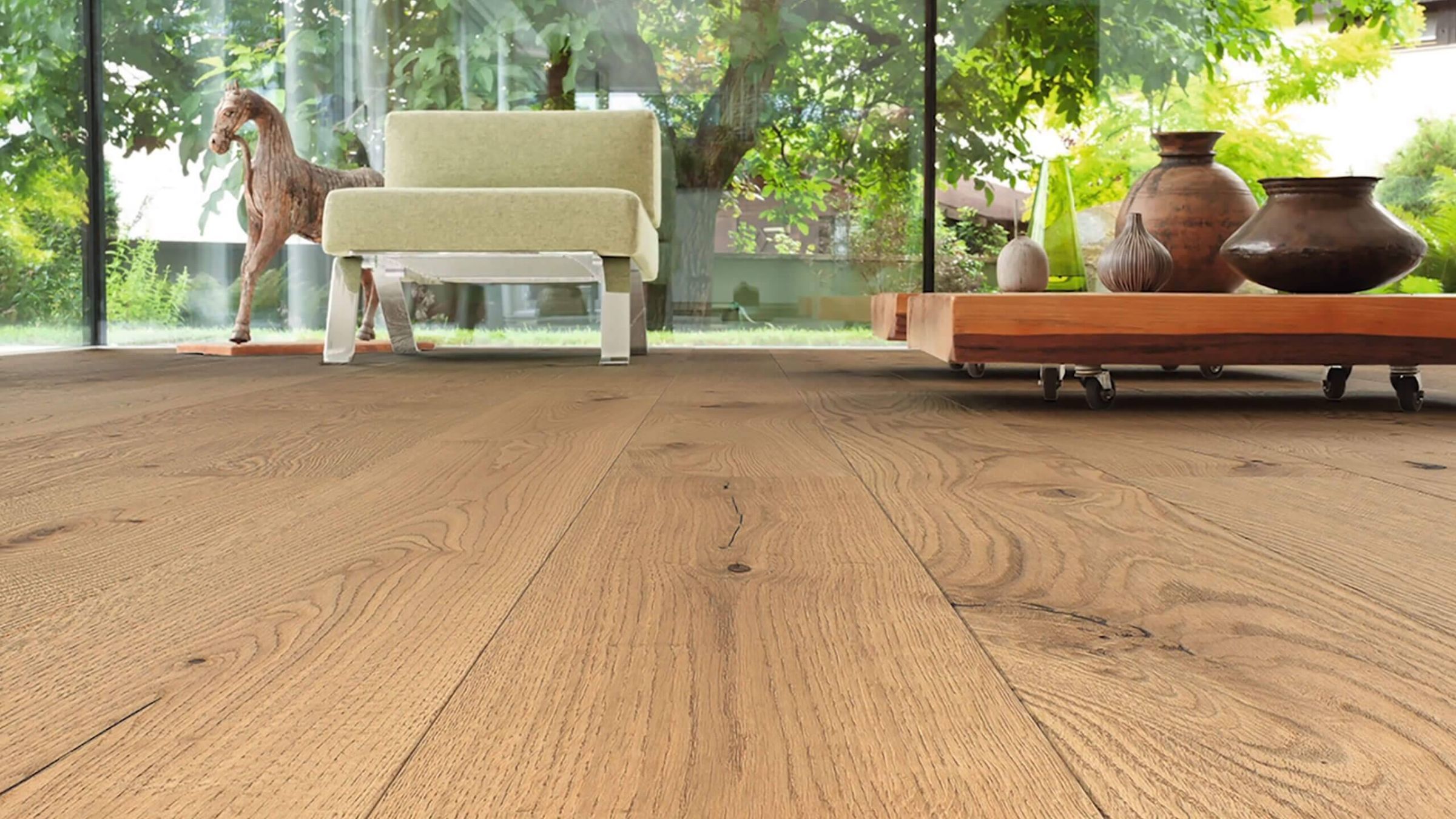 Carpet
Carpet is a firm favourite for places in homes where people like to feel cosy, such as living rooms and bedrooms. It's perfect for creating a snug environment and is quite possibly the warmest flooring you can install in a house. There's so much choice now with something for every budget and carpets that even bleach clean to make stain removal so much easier. It is also quite quick to install compared to other flooring so it means there is little disruption to your day-to-day life.
Carpet is not anything Rees Tiles hold in stock but we'd be happy to recommend some local businesses if you are in need of it.
Advantages
Warm underfoot
Lots of style and colour options
Noise reducing
Disadvantages
Should not be used in Bathrooms or Kitchens
More laboursome to clean
Can accumulate dirt and dust easily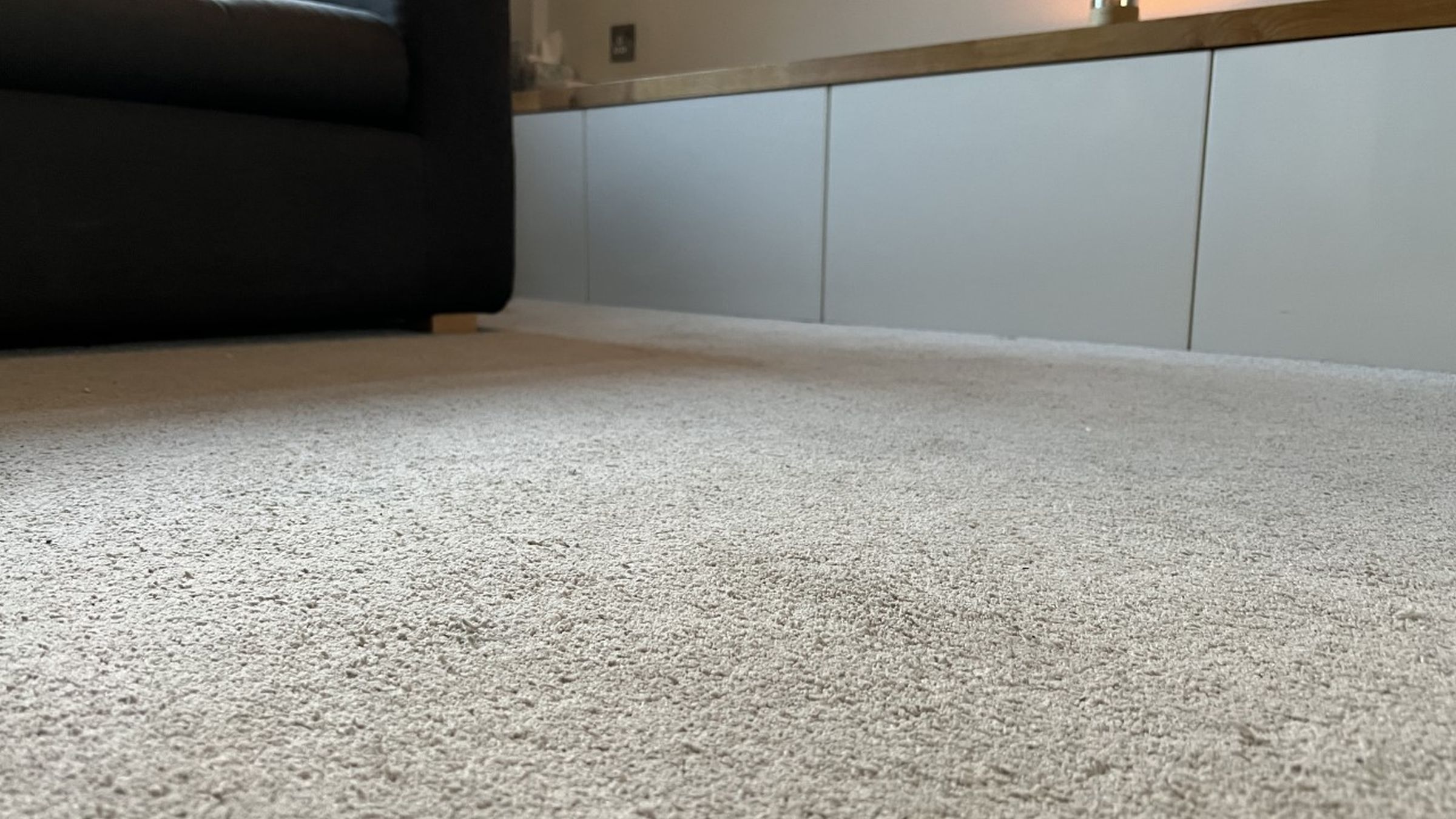 Natural Stone
Natural stone flooring is as it sounds, stone cut from a natural source. These sources are usually the likes of marble, travertine, limestone, sandstone, slate and granite. The tiles are cut from slabs of stone with a thickness of 10cm, or there abouts, and installed just as you would with porcelain and ceramic tiles. As they're a natural product they are porous and because of this they require sealing after installation and regular treating afterwards. Without this, any stains will be absorbed into the stone and likely leave a permanent mark on your newly tiled surface.
Rees Tiles do not hold stock of natural stone but it is something we can specially order.
Advantages
Strong and durable
Some stone can be used inside and outside
Works with a variety of interior styles
Disadvantages
Needs sealing and ongoing treatment
Quite costly
Cold underfoot