Oh, the drama!
There are a few trends circulating for 2023 when it comes to styling your interiors, one of which we are particularly fond of is in-your-face, full-on drama. We love dramatic bathrooms, eye catching tiles, rooms and floors that are complete head-turners. It takes a brave person to be bold and they're the kind of person we love to work with. Well, we love working with each and every one of our customers, but when the brief allows for some creativity, it gets even more exciting!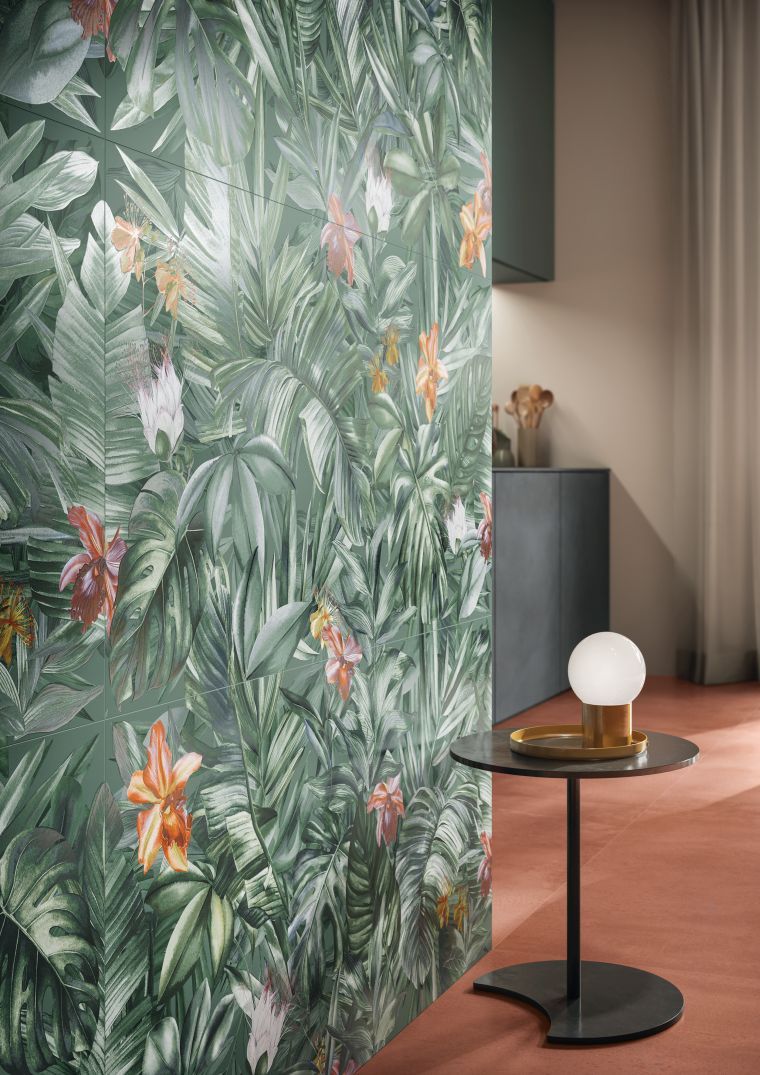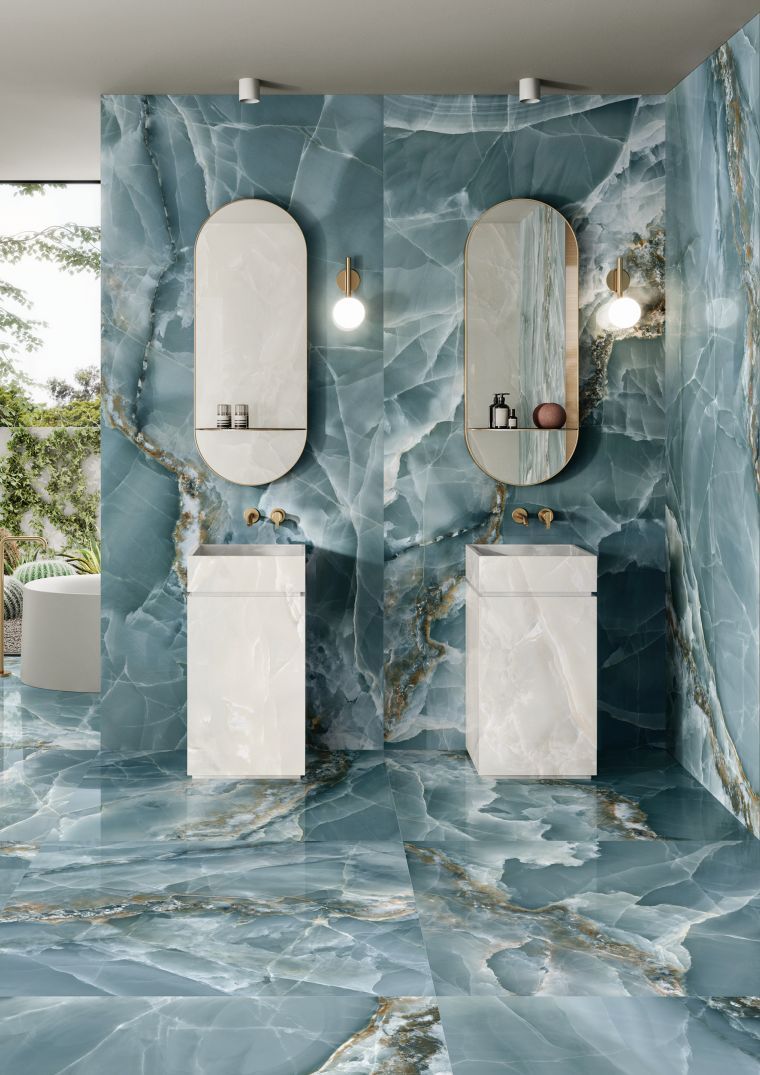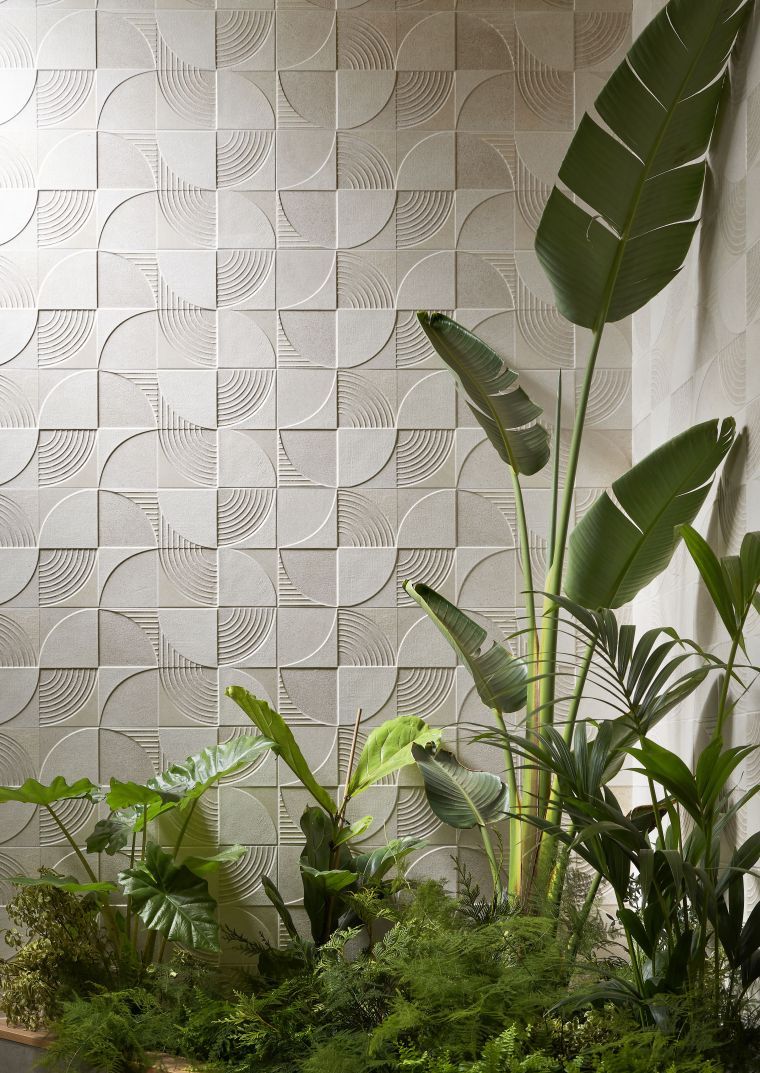 Dramatic feature walls add visual interest in a room, drawing the eye in and creating an engaging focal point. They are a way to personalise your home and reflect your tastes and style, as well as creating a sense of excitement. We are finding more frequently that our customers are interested in creating their own eye-catching, dramatic feature walls in their homes, especially bathrooms and kitchens. It is also sometimes a cost-effective way to have a bit of a revamp without breaking the budget. By simply re-tiling one wall with new dramatic tiles, the whole bathroom or kitchen can be given a new lease of life. Single wall, minimal spend, maximum impact!
Replacing small, traditional kitchen tiles with large format, statement tiles will certainly make the room feel more engaging and dynamic, and changes such as this are particularly effective in spaces where people entertain or gather.
Below is a roundup of some of our most show stopping collections…
Onyx
Our Onyx collection is the definition of dramatic. The bold colours, mesmerising patterns and striking designs immediately draw the eye towards it, making it the perfect choice for a spectacular feature in a room. You might liken the veining on these tiles as bolts of lightning or glass cracking, complete with translucent layers and areas of rich, warm colours. We hold these large format, 60x120cm glossy tiles in stock and there are 5 fabulous colours to choose from; Black, Blue, Green, Pink and Ivory, all with a matt or gloss finish. Maybe you could play it safe with Ivory or Black, but if you fancied being really brave then the Blue, Green or Pink could certainly do the trick!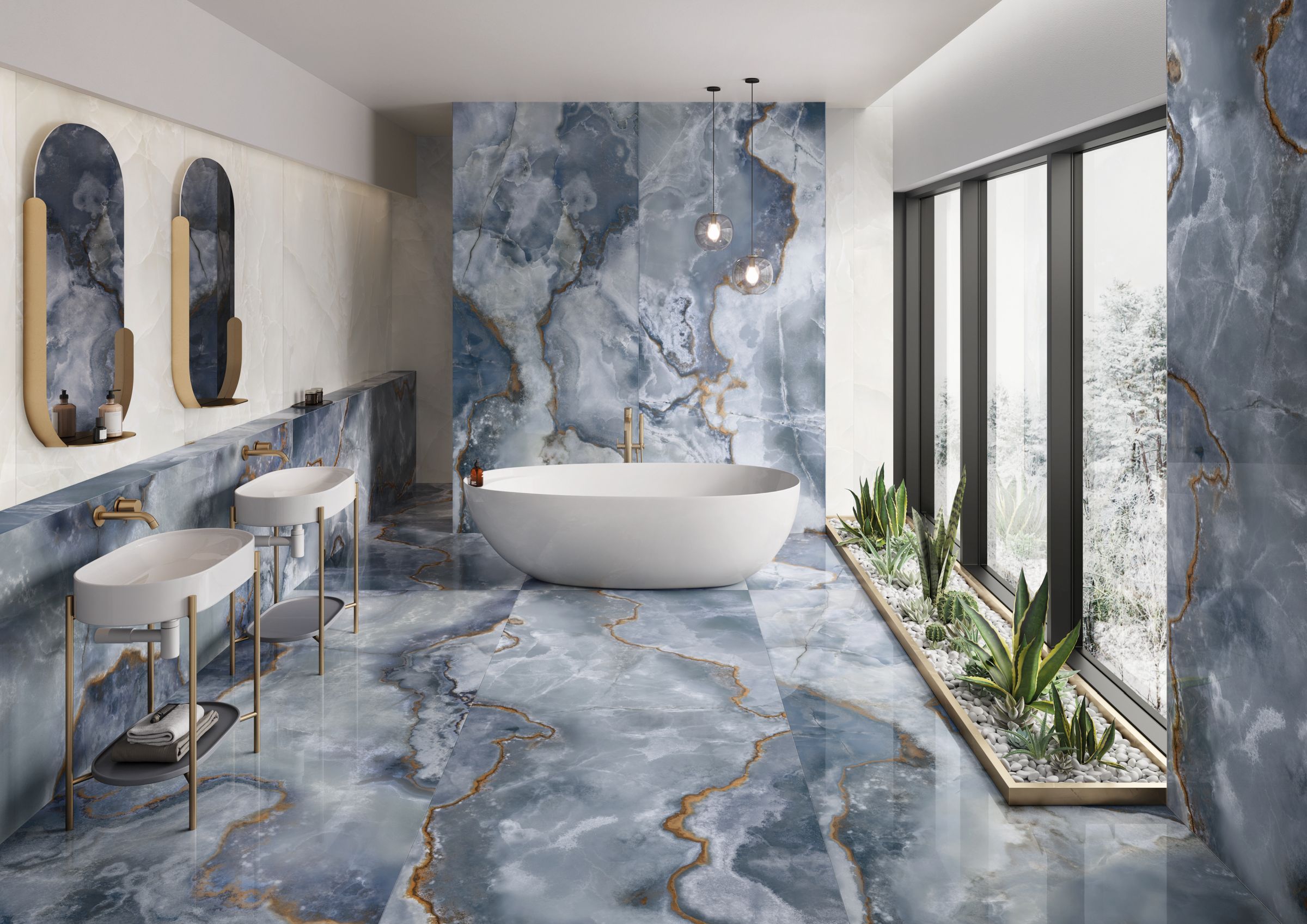 Pigmento
What's more exciting than big leaves, bright flowers and a jungle vibe? The Pigmento décor tile is part of the Eden Collection by Emil Group, it's BOLD and it's out there! This 60x120cm, leafy tile adds a vibrancy to a room and if we are completely honest, it's a bit of a showstopper. The dense colours create a sense of personality to a space and the oversized leaves, with their juicy green hues, scream "Hey! Look at me!". There's no doubt about it that this tile isn't for every household, but it is such a bold and daring look and it can look stunning when done right. By keeping the rest of the room light and bright, you can't help but notice the magnificence of a feature wall in Pigmento. Lush green monstera and palm leaves, complete with pops of pink and orange from the blooms…what's not too love?!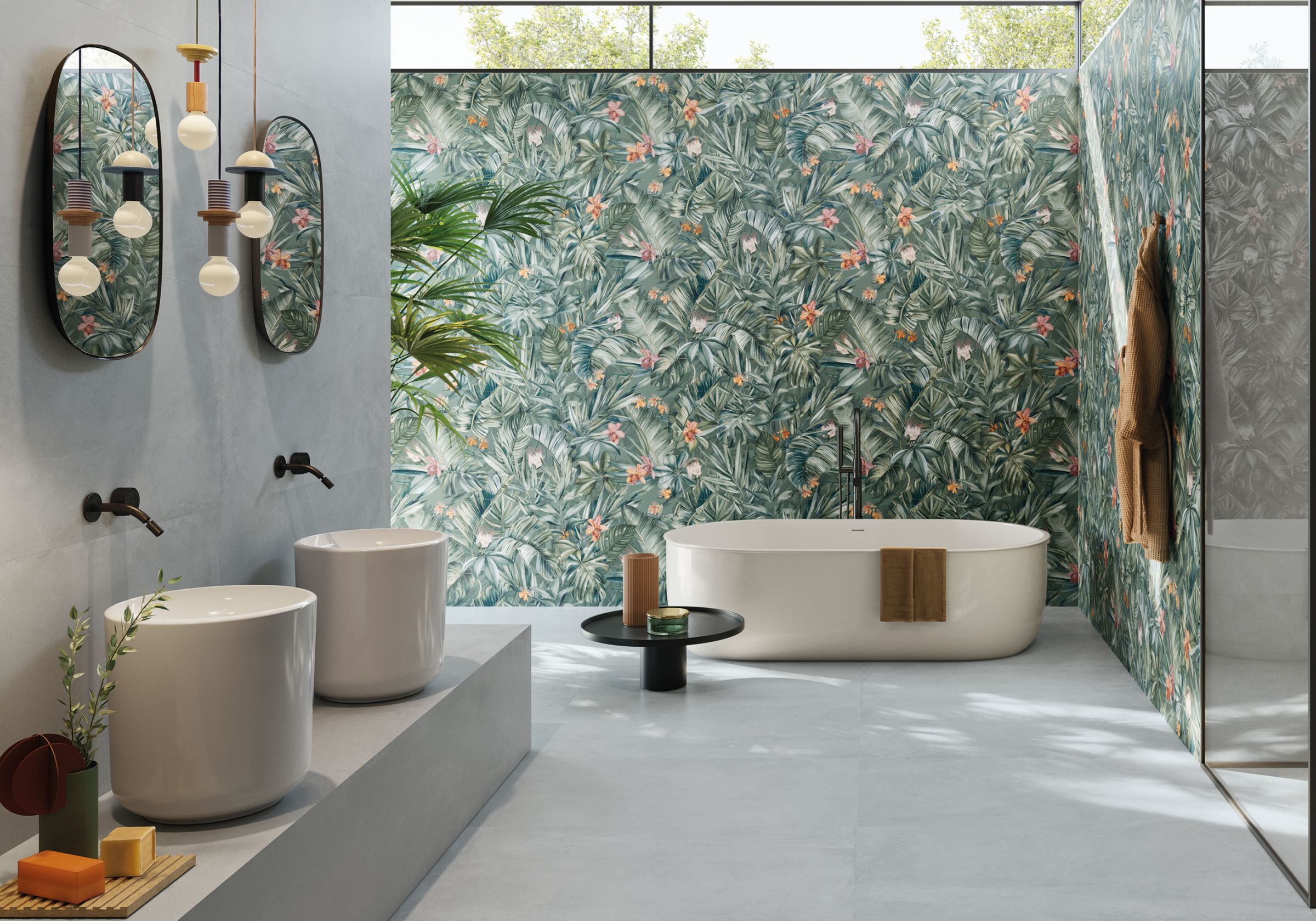 Rhodium
A newbie in our showroom and it is causing a bit of a stir to say the least! This metallic effect tile collections takes its inspiration from the everyday materials that surround us and oozes Industrialism. It's a super modern, contemporary collection that creates a fuss-free kind of drama, in a very "what you see is what you get" kind of way. These 60x120cm tiles are like sheets of metal, with luxurious depth and warm tone, ideal for creating a sense of continuity in a room and perfect for getting that element of drama we so dearly love. Team these tiles with brass, copper or black fixtures and fittings or contrast against an alternative material such as wood effect or stone effect to create a statement. Rhodium is available in 4 colours; Aluminium, Brass, Iron and Steel, and it's easy to see why these colours lend themselves to a contemporary setting.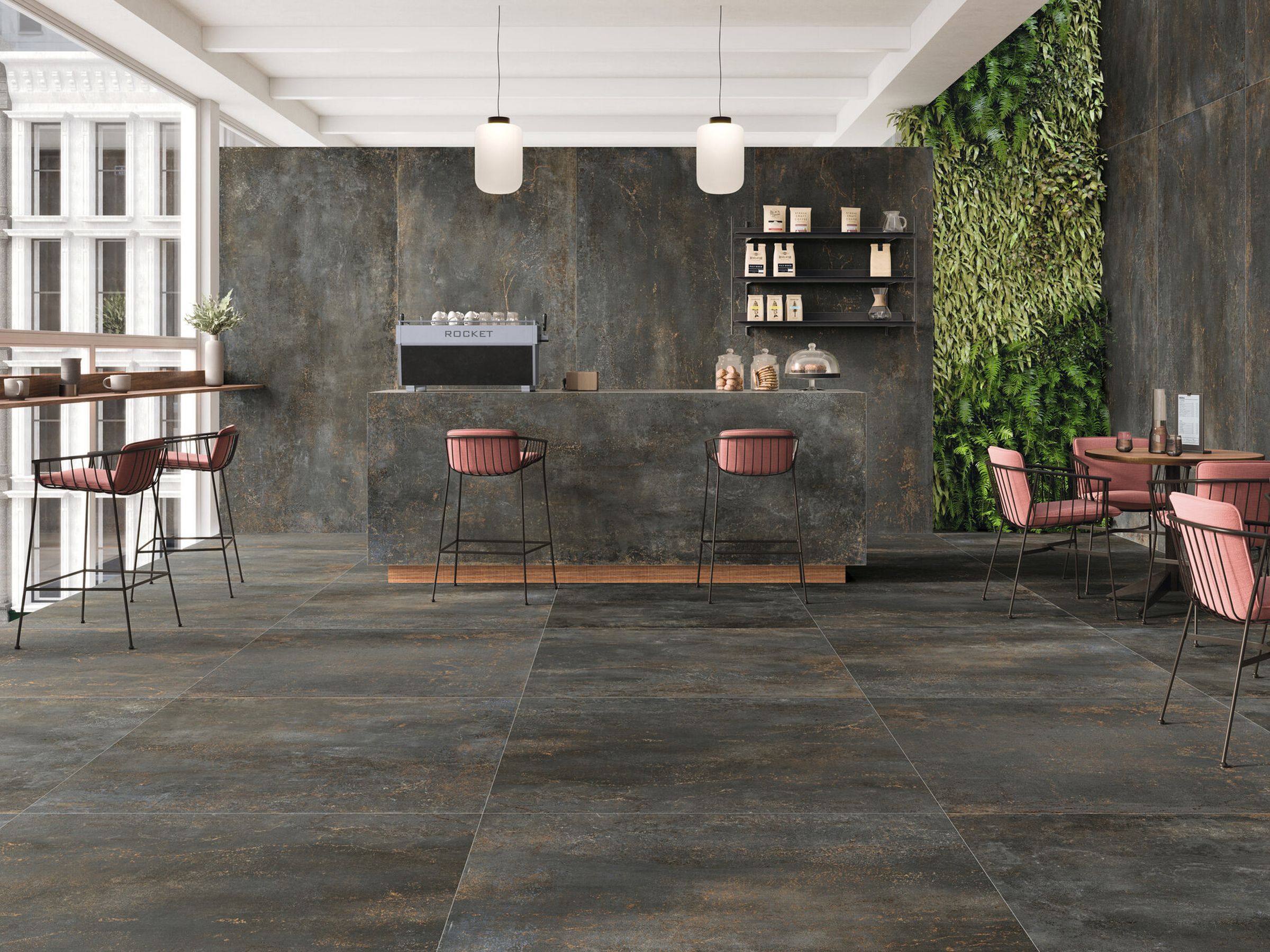 Invisible White
A grand and stand-out marble effect tile could be the perfect way to add some drama and Invisible White by Imola could be the very tile that fits the bill. The crisp contrast between the grey veining and the brilliant white creates sleek and sophisticated finish – a look that is quite favourable right now. Invisible White is a superb tile for creating an eye-catching feature in a room and has proved to be a popular and versatile tile, being used on floors, on walls, in bathrooms and as kitchen splashbacks. It is stocked in both matt and polished finish and is 60x120cm in dimension.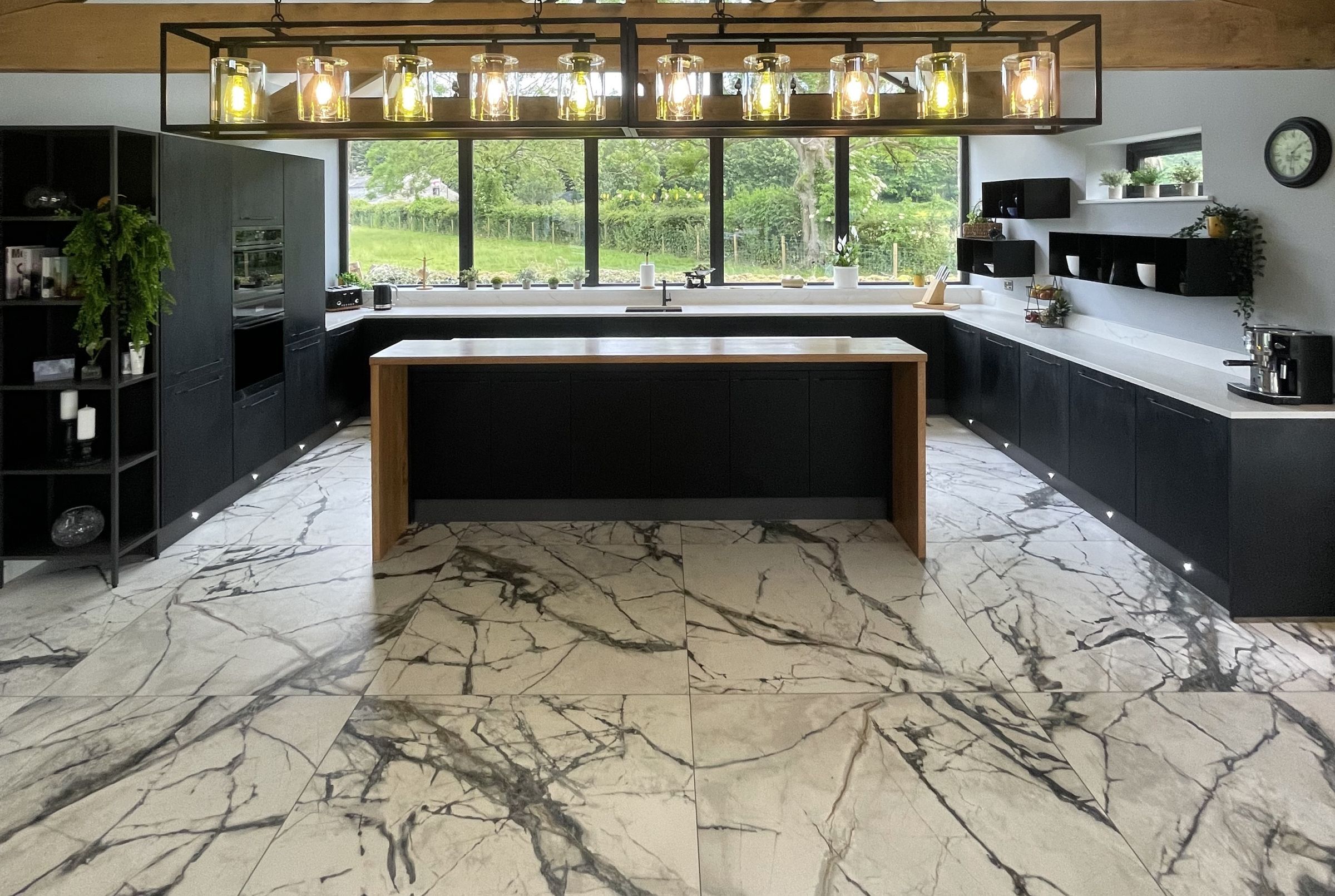 Coniston Leaf
Our Coniston collection is a stone effect range that has been inspired by earth and nature, with multiple sizes available (30x60cm, 60x60cm and 60x120cm) and a colour scheme to reflect those natural tones. The collection comes with a large format, striking décor tile going by the name 'Leaf'. It is 60x120cm in size, so perfect for a feature wall or decorative panel in a room, maybe even a splash back in a kitchen if you are brave enough – we'd love something like this! We think this tile is subtly dramatic with it's textured, sweeping and sculpted design and it's just beautiful. Leaf Décor is available in Ivory and Shadow.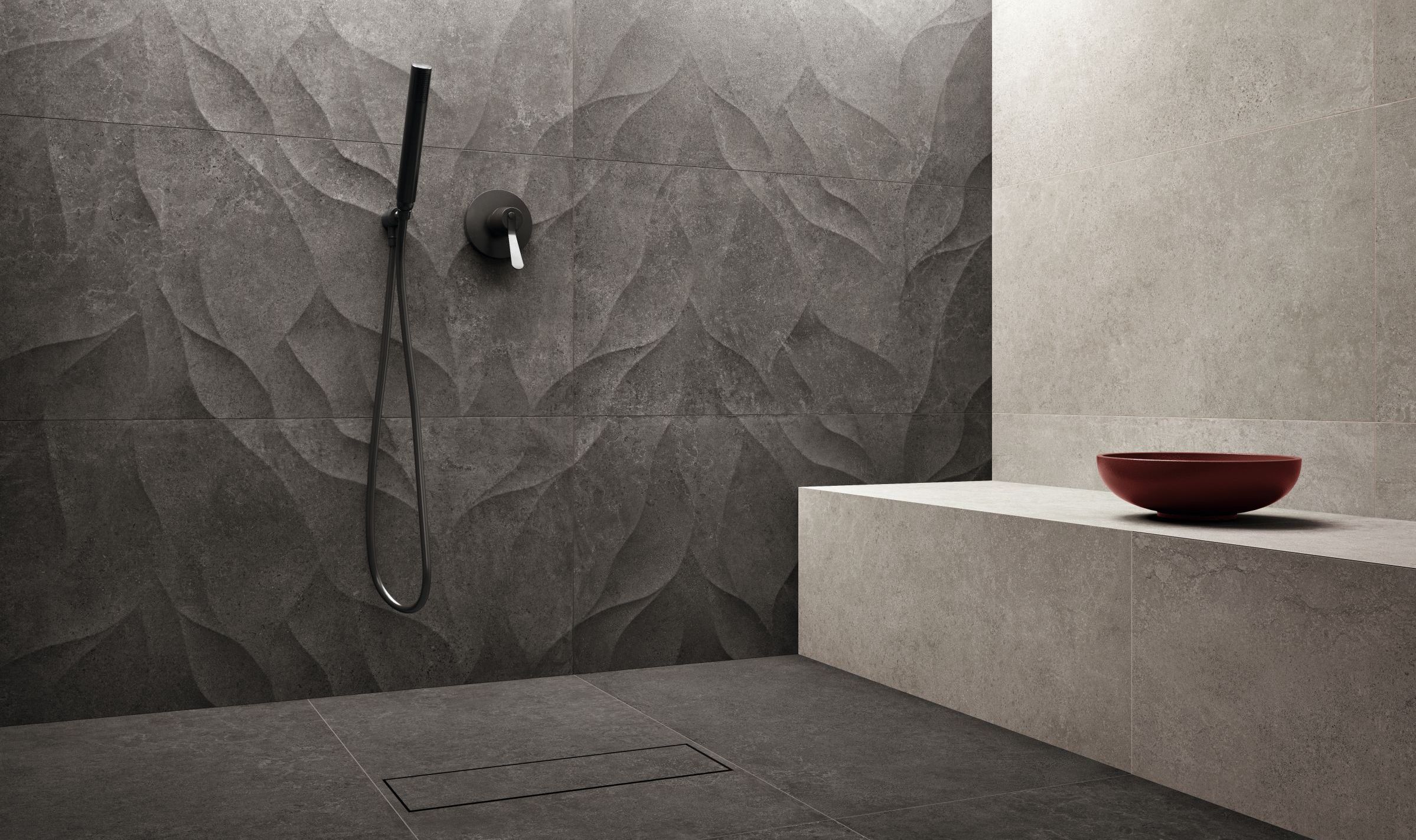 Solid
An industrial styled décor tile with elements of geometrics to it, interlocking and intertwining, causing a scene from the minute you notice it! Solid Art is only 30x60cm in size but the impact it makes is so much bigger, making a statement with its varying shapes and sweeping textures. This decorative pattern is circular is style and has somewhat of a softness to it, but the design is bold, repetitive and edgy at the same time. It is elegant and interesting - sure to brighten up a bathroom and is a perfect choice for a feature wall. Solid has a more muted colour palette than some of the other tiles we have mentioned due to the fact it is a concrete effect collection so it bears realistic colours. It is available in 3 colours; Beige, Graphite and Pearl, perfect for adding some drama without being too over the top.